Tuesday, March 25, 2014
2014 Hot Aviation Careers
A new era of aerospace is fueling aviation career opportunities
In terms of careers in the aviation industry, all the attention has been focused on regional airlines and the hand-wringing as the supply of pilots is drying up. It's no secret that this unprecedented phenomenon is being fueled by low starting salaries at the regional carriers, a wave of pilot retirements due to the "age 65" rule, a declining pilot population and the exodus of American pilots to other shores in search of cushy signing bonuses and generous salaries. But the real news is that while everybody argues about whether or not there's a real pilot shortage, lots of aviation-related careers are hot and getting hotter.
It may be surprising to note that although some sectors of aviation seem to be floundering, others are enjoying explosive growth. We spoke with some of the top aviation universities and training academies in the country and examined which career paths are in demand, which ones have a bright future and where the hiring is happening in today's aeronautics industry. The year 2014 might be when aviation careers regain the shine they once enjoyed.
Nonflying Careers
Not everybody wants to fly an airplane. Many brilliant aeronautical minds prefer to do their work on the ground. Ben Rich was a gifted aeronautical engineer who was the second director of Lockheed's Skunk Works after the famed Kelly Johnson. Rich is considered the "father" of stealth technology and led the development of the F-117, among many illustrious accomplishments, and he wasn't a pilot. Another was Adolf Busemann, a German aerospace engineer who came to the United States after World War II and developed the swept-wing jet design at Langley. He later pioneered the concept of using ceramic tiles to dissipate heat on the space shuttle. The nonpilot list is long and impressive.
Just as it takes a village to raise a child, it takes a bigger village to keep aircraft flying. The support and control tasks that relate to a flight range from maintenance crews to air traffic control, to avionics specialists and cargo loaders. Paul W. Tibbets, the pilot of the famous Enola Gay B-29 that dropped an atomic bomb on Japan, thus ending World War II, frequently attributed the success of that mission to his crew chief, Technical Sgt. Walter F. McCaleb, and his ground crew. Nonflying jobs are an essential part of aviation, and that's where much growth is anticipated. The future is exciting.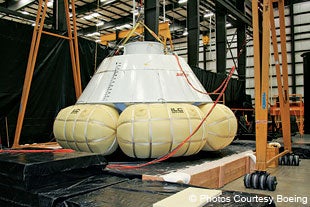 Jobs in space operations are growing rapidly as the commercial use of space increases. Boeing's CST-100 pictured here is America's next manned space vehicle.
Top-rated aeronautical university Embry- Riddle tells us that A&P mechanics are being hired at a record pace, and that their maintenance technician courses are frequently over capacity. Boeing's latest "Market Outlook (2013)" supports this trend and projects a favorable future for maintenance technicians of all specialties—especially mechanics. According to Boeing, 556,000 new technicians will be needed worldwide, just for the airline industry, between now and 2032. According to the Bureau of Labor Statistics, job prospects will be best for mechanics who hold an Airframe and Powerplant (A&P) certificate. Salaries will depend on education, with both Embry-Riddle and Spartan College of Aeronautics and Technology offering some of the largest certificate two-year and four-year degree programs.
Another bright spot in aeronautical careers is that of air traffic controller. The FAA plans to hire some 12,000 air traffic controllers in the next 10 years, while 10,000 controllers will retire during the same period. The current workforce of approximately 15,000 controllers handles the 5,000 flights that are in the air at any given moment over the United States. ATC is more than just tower controllers and includes both air route traffic control center (ARTCC) controllers, as well as terminal radar approach control facilities (TRACON) controllers in 315 air traffic control facilities nationwide. The Next Generation Air Transportation System (NextGen) is taking shape and is changing how controllers work. This exciting move away from land-based control facilities to automatic dependent surveillance broadcast (ADS-B) control is attracting applicants who enjoy the challenge of new technology.
Page 1 of 6