Tuesday, March 25, 2014
2014 Hot Aviation Careers
A new era of aerospace is fueling aviation career opportunities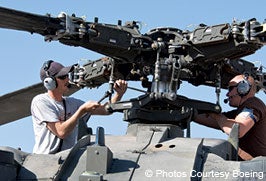 Specialized mechanics repair an Apache AH-64 in the field. Over 560,000 maintenance technicians of varying specialties will be needed by 2032.
In February of this year, the FAA announced new, more relaxed hiring rules for air traffic controllers. The controversial change no longer gives priority to ATC applicants going through a dedicated College Training Initiative (CTI) program. Aside from the basic citizenship, age and English language ability, candidates need only "have three years of progressively responsible work experience, or a Bachelor's degree, or a combination of post-secondary education and work experience that totals three years." Successful applicants then go through the FAA Academy for specialized training.
As in years past, the demand for aerospace engineers far exceeds the supply. Engineering remains a lucrative career field, with salaries easily outpacing those of pilots. Mechanical engineers—especially those with a specialty in robotics or clean energy systems—are in high demand across the industry. The Bureau of Labor Statistics places career growth at 7% over the next 10 years, with an average salary in the low six figures. In a similar vein, Embry-Riddle reports that computer engineering, software engineering and computer science are also very strong in all sectors of the industry, with demand increasing as aircraft become essentially "computer systems with propulsion and wings."

Another bright spot in aeronautical careers is air traffic controller. The FAA plans to hire 12,000 in
the next 10 years.

With America's renewed interest in space exploration and the expansion of the commercial use of space, an entire career field is burgeoning. Graduates will work in the areas of space policy, operations, regulation and certification, as well as space flight safety, space program training, management and planning. Embry-Riddle was the first university to introduce a major in Commercial Space Operations, though other institutions are working on offering space-oriented degrees. Though the discipline is still in its infancy, it's projected to grow well into the next 20 years.
Several of the institutions we spoke with also reported that intelligence and security is a growing field, with companies actively recruiting graduates. This area focuses on careers in computer forensics, forensic biology, cyber security, foreign policy, homeland security and anti-terrorism.
The Florida Institute of Technology's Aviation department reports a demand in several aviation specialties, including human factors analysts, airport managers, and aerospace marketing and management. Human factors analysis is dedicated to better understanding how humans can be integrated with technology and automation in the safest and most efficient way possible. Boeing has been a leader in this research area and has employed human factors analysts since the 1960s. Meanwhile, airport managers administer the country's 14,000 airports and landing facilities, and according to industry salary site Avjobs (
www.avjobs.com
), their average yearly salary hovers around $90,000. Marketers and managers typically have four-year degrees and average $100,000 per year.
Airline Employment Outlook Through 2032

Pilot Outlook




(New Pilots Needed by Region)

Technician Outlook




(New Technicians Needed by Region)

Region

Number of pilots




needed by 2032

Region


Number of Technicians




needed by 2032

Asia Pacific

192,300

Asia Pacific

215,300

Europe

99,700

Europe

108,200

North America


85,700

North America

97,900

Latin America


48,600

Middle East

53,100

Middle East

40,000

Latin America

47,600

Africa


16,500

Africa

15,900

Commonwealth of
Independent States

15,200

Commonwealth of
Independent States

18,000

TOTAL PILOTS NEEDED:

498,000
TOTAL TECHNICIANS NEEDED:
556,000

Statistics from 2013 Boeing "Market Outlook Report"
Page 2 of 6