Tuesday, March 25, 2014
2014 Hot Aviation Careers
A new era of aerospace is fueling aviation career opportunities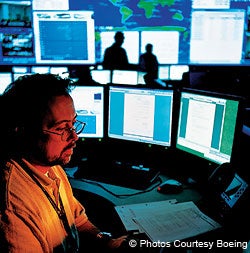 Supporting roles for unmanned aerial vehicles are projected to grow rapidly. Operations centers like this will oversee the operation of commercial UAVs.
The University of North Dakota (UND) was the first top institution to offer a UAV or "drone" program to train pilots back in 2009. Today, it's considered a frontline program and is led by Brig. Gen. Alan Palmer. UND's program includes the only Predator Mission Aircrew Training System outside of the military. Today, the program requires drone pilots to hold commercial and instrument ratings. UND's considerable investment in their UAV program has resulted in a blossoming program, growing from five students to over 120. Embry-Riddle and Kansas State University have since added similar programs, and a master's degree program was launched by Embry-Riddle at their Daytona, Fla., campus.
Graduates have gone on to work for military contractors, earning annual salaries as high as $275,000, with averages between $84,000-$115,000, according to AUVSI. Several federal agencies are recruiting UAV pilots, including U.S. Customs and Border Protection. Government pay grades for UAV pilots range from GS11 to GS15 ($50,287-$129,517). Experts in the industry feel that with such lucrative salaries and the explosion of UAVs across the spectrum, the demand for these pilots will far outstrip the supply.
Corporate flying is the next choice for pilots not wanting to go the regional airline route. Studies of the business aircraft fleet show that there's growing interest by corporations in wanting to own and operate their own aircraft for many reasons. Today, approximately 500 of the top American corporations operate flight departments of their own. This is expected to grow, as will the demand for pilots to fly these aircraft. Salaries vary widely, with an average first officer annual salary of $60,000-$70,000 on a small business jet, according to Avjobs.
Even if the airlines and corporate world aren't your thing, pilot jobs are available in other areas of aviation. Around 2005, when the last wave of regional airline hiring happened, there was an alarming shortage of certified flight instructors. The airlines sucked flight schools dry while many said the industry would collapse without CFIs (rightly so). Though the situation never got that dire, it did illustrate the need for good instructors. Like many aviation jobs, the pay isn't great, but the demand is there. There's hope that growing demand will help to increase salaries for CFIs.
Other commercial flying careers include law enforcement, EMS, and Search and Rescue flying. These are specialized fields with varying demand and solid salaries at around $100,000 per year. Commercial pilots can do other flying including charter flights, firefighting, air taxi, aerial photography and aerial application, also known as crop dusting. According to the Bureau of Labor Statistic's latest figures (2012), the median annual wage for commercial pilots was $73,280.
Tomorrow
Our aviation industry is in a state of change that hasn't been seen since the golden days of flying. The confluence of rapidly emerging technology, advances in air traffic control, changes in airline training, the emergence of UAVs, the commercial use of space and the changing pilot population has created both upheaval and an exciting new turn in aviation. Like the days when the first DC-3s graced the skies and the first Piper Cubs began filling the countless airports across the country, ours is the dawn of a new age in aerospace. The future isn't yet written, but an aviation career will certainly place you in the front seat of what will undoubtedly be a wild ride.
Page 5 of 6