Tuesday, March 27, 2012
Aerospace Careers Outlook
Top jobs with a promising future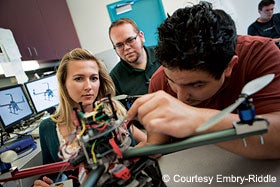 Unmanned Aerial Systems
Unmanned Aerial Systems
There also are pilot jobs available in Unmanned Aerial Systems (UAS)—along with jobs for sensor operators, planners and maintainers. Today, most of those jobs are military or in various federal agencies. That may be about to change—the legislation authorizing the FAA budget last year required the agency to designate sites for testing unmanned systems in the U.S. national airspace. Experts in the field expect that every flying job that's "boring, dangerous or dirty" will eventually move to remotely piloted vehicles, including fire-fighting, pipeline patrol and agricultural spraying. An FAA forecast published last year predicted 10,000 unmanned vehicles will be operating in the U.S. airspace in five years. Currently, unmanned pilot qualifications include an FAA commercial pilot license, preferably multi-engine (though single-engine may be enough, depending on the vehicle) with several hundred hours' experience. A four-year degree and ATP and Flight Instructor Certifications are a definite plus, and for the jobs available now, U.S. citizenship is required. Salaries start at around $50,000, and reach $75,000 with experience. Most experts we've spoken with are enthusiastic about opportunities in this field—professor Ray Bedard of Embry-Riddle Aeronautical University said: "The technology is moving faster than the regulatory environment. This is the future of aviation!"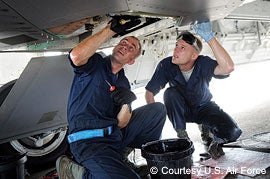 Aerospace Maintenance Technicians
Aerospace Manufacturing & Maintenance
Aerospace Manufacturing and Maintenance workers create and maintain the hardware that other aerospace professionals work with. According to the U.S. Bureau of Labor Statistics, over 140,000 people are employed as mechanics, service technicians and avionics specialists at aerospace manufacturers, airlines and other operators, repair stations and Fixed-Base Operators (FBOs). These jobs pay by the hour and often involve shift work. According to the BLS, getting hired usually requires a semester or more of community college or other specialized training—and with employment in this field growing very slowly, getting hired can take time. Many firms are hiring only as required to replace older employees as they retire. Embry-Riddle's George DeWees warned us last year that "it can take six months to a year to find a job."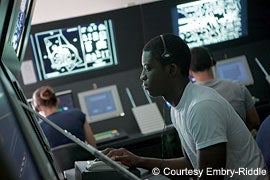 Air Traffic Controllers
Air Traffic Controllers
Air Traffic Management is a field projected to evolve as the FAA rolls out its Next Generation Air Transportation System (NextGen). Today, Air Traffic Controllers are responsible for keeping airplanes separated when flying under instrument flight rules, but according to Embry-Riddle professor (and former FAA air traffic controller and supervisor) Gregory "Sid" McGuirk, that's going to change: "The FAA is looking toward the day when air traffic is collaboratively managed rather than controlled—students graduating now will eventually work more as monitors than controllers." Still, McGuirk agreed that this field remains among the most challenging of all aerospace careers: "When things go south, you need the adrenalin rush so as not to lose control!" It's also a field with a lot of opportunity—the FAA plans to hire more than 1,000 controllers per year for the foreseeable future, mainly replacing controllers who have reached the mandatory retirement age of 56. The job involves shift work, usually adding up to a 40-hour week, though overtime may be required. According to the BLS, 90% of today's controllers make between $54,480 and $165,660 per year.
Airline Dispatchers
Airline Dispatchers share responsibility with the captain for the safety of U.S. scheduled airline flights, and are involved in many aspects of flight planning and operation. They're required to pass an examination comparable in most respects to that required for the ATP certificate, and hours for dispatchers are limited by federal regulations. According to Airline Dispatchers Federation executive vice president John Schwoyer, employment in the field is "stable and a sought-after position within and outside the airlines," estimated at approximately 5,000 licensed dispatchers in the U.S. Starting salaries vary from $20-$40,000 for new hires at regional airlines, rising to over $100,000 for experienced dispatchers at major air carriers.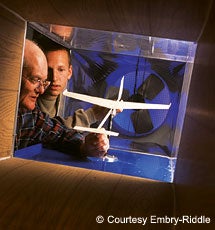 Aerospace Engineers
Aerospace Engineers
Designing air and space vehicles and related equipment is the job of Aerospace Engineers. Paul Kostek, a distinguished lecturer for the American Institute of Aeronautics and Astronautics, sees considerable opportunity in this field: "There are some clouds with the discussion of defense cuts, but demand is picking up at Boeing, Airbus, Bombardier and their suppliers. In my work, I'm seeing more and more consulting opportunities and more word from people looking to hire." Getting hired requires at least a four-year bachelor's degree in engineering or one of the physical sciences. Most engineers work a regular 40-hour week, but some work rotating shifts or odd hours when required. According to the BLS, as of last year 78,450 aerospace engineers had jobs in the U.S., about 1⁄3 of them at manufacturers. Wages range from $60,620 to $143,360 depending mainly on experience, though advanced degrees can help.
Airport/Aviation Managers
Airport/Aviation Managers fill a wide variety of roles focused on the business side of aviation, according to University of North Dakota Professor Kim Kenville, who told us: "We're seeing airports open up positions and create new departments because of increased traffic. Airports are shouldering more work on ground service as airlines outsource, creating a new line of business for FBOs. That makes training and customer service more of an airport responsibility, rather than being handled by airline head offices." Management jobs usually require a four-year degree, with earnings ranging from $40,000 to six figures with experience. Kenville told us the best route into one of these jobs is often an internship, typically paying $10 to $15 per hour.
Page 2 of 4