Tuesday, March 27, 2012
Aerospace Careers Outlook
Top jobs with a promising future
Virgin Galactic
By Marc C. Lee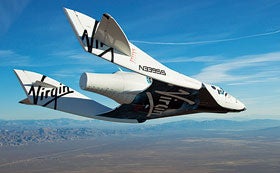 With their pilot-astronaut recruiting underway, the door opens for space travel once again.

It was just over 50 years ago that seven lucky men were selected for the Mercury space program—America's very first manned foray into space. Those seven astronauts forever thrust their names into the history books with a series of courageous flights that paved the way for our country's unparalleled space achievements of the 1960s and '70s. Today, Virgin Galactic has assumed the role of space pioneer with commercial ventures into space that have been several years in arriving, and they're ready for their first flights. For the first time in history, pilot-astronauts are being recruited for this private company.

If you're wondering, yes, it still takes the right stuff to be an astronaut, whether for NASA or Virgin Galactic. And this innovative company helmed by Sir Richard Branson is requiring some of the same things that NASA required of astronaut applicants back in the day.

Virgin Galactic is poised to become the world's first commercial spaceline. Mojave Desert-based Scaled Composites, founded by Burt Rutan, is developing a series of spacecraft for commercial spaceflight. The new spaceships, VSS Enterprise (VSS stands for "Virgin Space Ship"), SpaceShipTwo, and the mothership, VMS Eve, represent the absolute leading edge in space technology. Since 2004 when Scaled Composites claimed the $10 million Ansari "X-Prize" by developing the world's first private manned spacecraft, Scaled has been making history with their designs. Virgin Galactic's new vehicles share much of the same basic design of the X-Prize winner, but are being built to carry six customers on sub-orbital space flights, allowing an out-of-the-seat zero gravity experience and offering astounding views of the planet from the black sky of space. Commercial operations are set to start in 2012 and will be based at Virgin Galactic's Spaceport America in New Mexico.

Pilot-astronaut responsibilities will include involvement in the WhiteKnightTwo and SpaceShipTwo spaceflight system test program in accordance with government regulations and company policies in Mojave, Calif., and Virgin Galactic's commercial operations at Spaceport America in New Mexico.

Qualified candidates must be full-course graduates of a recognized test pilot school and must be broadly experienced with both high-performance fast-jet type airplanes and large multi-engine types.

In recent years, civilian test pilot schools have surfaced, such as the National Test Pilot School in Mojave, Calif., Empire test Pilot School in the U.K. and a handful of others. However, USAF and U.S. Navy test pilot schools still serve as the standard by which all are measured.

The ideal Virgin Galactic career entry path for pilot-astronaut hopefuls remains a military flight program, followed by military test pilot school and subsequent flight test experience, or at least a strong civilian/commercial flight path with civilian test pilot school. Civilian test pilot school consists of a 51-week professional course, and candidates must have a minimum of 750 hours flight time plus at least a bachelor's degree in math, science or engineering. The one-year course costs $918,000 (you read that correctly). Military test-pilot schools accept only a fraction of those that apply each year, and candidates are selected from the most experienced flight officers having math engineering and physics degrees.

Virgin will continue pilot-astronaut recruiting in the near future as the company nears commercial space operations. It's an exciting time to be a pilot once again, with dreams of space once again attainable. Visit www.virgingalactic.com.
Page 4 of 4