Tuesday, August 21, 2012
Airline Pilots: Coming Up Short
Regional and foreign carriers are worried as industry projects deepening pilot shortage
Kit Darby, an airline hiring consultant in Peachtree, Ga., said an American pilot willing to fly for a foreign carrier in the Middle East, China or India can earn well over $100,000 a year plus housing and other perks. WASINC International, a foreign airline recruiting company, is currently offering $198,000 a year plus bonuses, plus a $4,000/month housing allowance for new Airbus pilots in Europe and China. According to Darby and other industry officials, thousands of furloughed U.S. pilots are now flying for foreign airlines. The attraction is obvious as opportunities abound.
Whether a pilot shortage will affect domestic major airlines in a serious way remains to be seen, but regionals and foreign carriers have a lot to worry about. The economy is surging in the Asia Pacific region where the airliner fleet will grow 11% a year through 2015. That, in turn, will stimulate travel in the United States as international companies do business globally. Also, air cargo continues to grow both domestically and internationally, and is expected to grow an average of 5.2% over the next 20 years.

...An American pilot willing to fly in the Middle East, China or India can earn well over $100,000 a year plus housing and other perks. WASINC, a foreign airline company, is offering $198,000 a year plus bonuses, plus a $4,000/month housing allowance.

Domestically, Americans still use air travel as their main form of transportation, with regional airlines transporting millions of passengers to major hubs. The number of passengers regional airlines carry has grown from 82.5 million in 2000 to 161.4 million last year. As of this writing, three more airlines in the U.S. (JetBlue, Spirit and US Airways) have reported record, or near record, profits for the second quarter of this year. That growth is expected to continue even in light of oil prices and increasing customer complaints.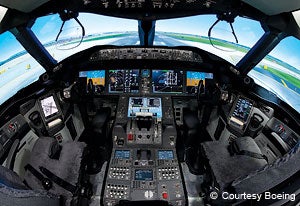 The FAA's proposed ruling takes effect in 2013 and will require pilots to have 1,500 hours' flying time to qualify as a first officer.
Falling Short
A pilot shortage is being fueled by several factors. The most pressing is the extension of the pilot-retirement age. In December 2007, the FAA raised the mandatory retirement age for pilots from 60 to 65. Pilots who were age 60 when that mandate was passed will reach retirement age in December—just weeks away. Industry estimates are that some 2,000 pilots will reach mandatory retirement this year alone, starting a wave that will continue to decrease the airline-pilot population each year. The Aircraft Owners and Pilots Association (AOPA) estimates that 20% of current ATP and commercial certificates are held by pilots 60 and older.
Naysayers point to the 70,000 current pilots—many on furlough—who they say will fill many of these slots. But if you factor in mandatory retirements, pilots who have left the industry altogether, deaths and those who have lost their medicals, that number falls dismally short. Les Westbrooks, an Embry-Riddle Aeronautical University Professor and former airline pilot, said that the demand for new pilots will be immune to the business and hiring cycles that normally follow the economy because of forced retirements alone. "There is an absolute demand," noted Westbrooks.
Meanwhile, in response to the 2009 Colgan Air crash in Buffalo, N.Y., Congress passed Public Law 111-216a, mandating that the FAA revise flight-crew training requirements. In response, the FAA enacted a new rule that takes effect in August 2013. The rule raises the experience level required to be an airline first officer from the current 250 hours of flying time to 1,500 hours, the same level as currently required of captains. The AOPA figures this could cost a flight student an additional $90,000 to meet.
Page 3 of 4