Saturday, May 1, 2004
Aviation Careers Outside The Cockpit
Very few people realize that there's a broad spectrum of job opportunities residing on the ground

Not everyone who loves airplanes wants to be a pilot. Obviously, there's much more to aviation than flying. The spectrum of service to the aircraft industry is as wide as a rainbow that is arcing the sky—there's something for everybody. And here's just a small sampling." />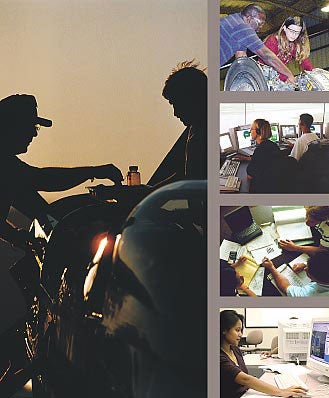 For aviation nuts whose forte isn't flying, there are plenty of career opportunities on the ground. There's a huge demand for aircraft maintenance personnel, and there will be several openings in air traffic control, since many professionals are retiring soon. Aviation computing is a growing field, and airport managers can quickly climb the career ladder.
Not everyone who loves airplanes wants to be a pilot. Obviously, there's much more to aviation than flying. The spectrum of service to the aircraft industry is as wide as a rainbow that is arcing the sky—there's something for everybody. And here's just a small sampling.
Airport Management
Airport management carries a lot more than the common connotations of financial issues or day-to-day operations, and the greatest success is through management training that is specific to the needs of airplanes and air transport. "Our airport-management students are those with a keen interest in airplanes, but seek intellectual challenges beyond the cockpit," says Dr. Mike Barker, director for airport management and development at Florida Institute of Technology in Melbourne, Fla., a provider of aviation managers. "They're turned on by the excitement and glamour of the job's diversity, its business and political aspects, working with aviation technology and dealing with the airlines. FIT's enrollments into this field have actually increased since the economy's downturn and the events of 9/11. Every substantial airport, at home and abroad, hires managers right out of college. Additionally, a large contingent of our students join airport consulting firms. Airports engage these national and international firms to accomplish such projects as master planning, construction and expansion, environmental planning and response, or airline service development. These managers are somewhat mobile, as they satisfy contracts that range from six months to several years. Applicants to these firms must possess a strong educational background in aviation management."
Airport management provides a good income and career ladder. FIT graduates, by example, can expect starting salaries from the mid-$30,000s to the high $40,000s. After four to six years, they can earn about $60,000 to $70,000, with higher earnings beyond.
"Women across the country have done extremely well in airport management and there's no ceiling to their careers," adds Baker. "The industry is receptive and many of the nation's largest airports are currently being run by women who have risen very quickly. We encourage their enrollment into this field of study."
Page 1 of 3