Tuesday, June 1, 2004
Cockpit Career Update Part 2: Changes In Pilot Careers
Last month, we discussed how today may be the best time to prepare for an airline job. In this second part of our three-part series, we'll show you the technological developments currently happening in the industry.

United Air Lines recently put 100 aircraft on hold. But this isn't an indication of pilot careers going down the tubes. On the contrary, it's only indicative of the changes that are currently going on in the industry. While the major airlines are cutting down, the regional airlines are in full bloom. The routes that are run by major airlines with large airplanes and low load factors are being taken over by low-cost regional operators whose airplanes are almost always full." />
The increasing number of passengers per aircraft has enabled these airlines to improve pilot remunerations. "You can get paid $100,000 a year with company-paid retirement plans," says Kit Darby, president of AIR, Inc., an aviation career resource company. "So, the companies at the regional and national airlines are becoming bigger career players than they were in the past." Formerly, pilots would immediately move from regional airlines to the majors. But today, they're more likely to stay with the regional company long term.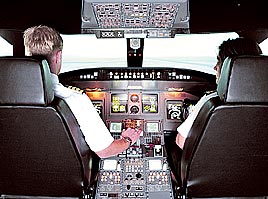 With major airlines handing down more passengers to the regionals, several regional jets are taking to the skies.
Another consequence of the equipment replacement is a change in the evaluation process for potential pilot candidates. Few airlines are choosing to eliminate simulator evaluations altogether. Instead, they're using cognitive tests. According to Darby, cognitive tests are "extremely good predictors of simulator performance," and they're much less expensive than simulator evaluations.
"Our numbers show that the big airlines spend $4,000 to $5,000 per candidate during the screening," continues Darby. This is because the company provides not only an expensive simulator, but also a captain or two for the briefing and the evaluation.
But despite the cost, most airlines still use simulators to evaluate their applicants. "Since many companies are moving toward flying all jets and they don't see any benefits from maintaining a simulator for an airplane that isn't part of the fleet, they'll probably go to RJ simulators," says Darby.
This transition can prove to be very difficult for candidates who have never flown comparable equipment. Those pilots may need to invest in a simulator training program to increase their chances of getting hired.
Many flight schools have already started implementing regional jet simulators into their programs. Pan Am's students spend 30 hours in a CRJ (Canadair Regional Jet) simulator with a flight management system (FMS), a flight director and a full-glass cockpit. Their studies also include two weeks of groundschool, which focuses on generic systems of regional aircraft, such as the Saab, Embraer Regional Jet (ERJ) and CRJ. "While our students will go on to work for us as CFIs before moving on to the airlines, we're not just training flight instructors," says Heron-Weeber. "We're training airline pilots."
Page 2 of 3