Tuesday, April 6, 2010
Dream Makers: Everyday Pilots Reaching For The Sky
When passion and determination combine, anything is possible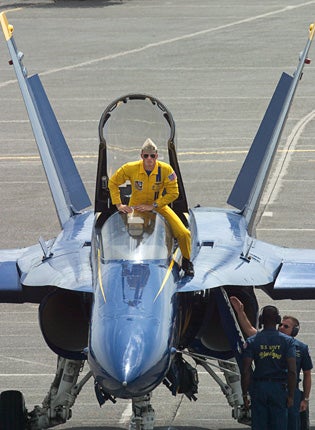 ­Len Anderson IV. Photo by William Anthony
Dreams of flight are special. They beckon you from your earliest memories, and they're insistent—always calling you to look up at the sky when an airplane passes overhead, or crane your neck at the nearest airport. Some people keep those dreams at bay for a variety of reasons. But others chase them with every ounce of their being; they hold onto them, make them happen and inspire others to go after their own aviation goals.
These are stories of pilots—none famous but all passionate about flying—who were touched by dreams of flight and did everything possible to make their dreams a reality. In spite of their accomplishments, each one is humble, engaging and filled with the spark of life shared by all aviators.

Len Anderson IV
If there's one dream that's pervasive among anyone even remotely interested in aviation, it's that of becoming a military fighter pilot. For Len Anderson, watching
Top Gun
sealed his fate.
"I watched it," says Anderson, "and though the aviation spark was already there, that gave me the added fuel. It became my dream." Thirteen years later, Anderson was accepted into the Navy's prestigious, grueling and famous Top Gun school.
Anderson began pursuing his dream in earnest as a senior in high school. He applied to all the military academies, but settled on a civilian college and enrolled in the Reserve Officers' Training Corps (ROTC), guaranteeing a shot at a Navy flight-training slot. Anderson was accepted into fighter training, and went on to fly F/A-18s for the U.S. Marine Corps. "It was fun, it was amazing, it was just an incredible time for me," he says.
Later, after being selected as a training officer, Anderson began to pursue his dream of becoming a member of the Blue Angels, the Navy's precision aerial demonstration team. After three years of applying, he was selected for the world-famous team. "For three years, I got to fly around the world, essentially breaking every
FAR
you've ever known," he laughs.
His 14 years of active-duty flying ended happily after his stint with the Blue Angels, and Anderson became a flight engineer on Boeing 727s for FedEx. Today, Anderson is pursuing a dream of a different sort: acting and writing scripts in Hollywood. "It has been going really well, and I have a movie coming out that involves aviation," smiles Anderson. "I've been very fortunate." He advises anyone thinking about aviation to keep the dream alive: "Search out those pilots that are better than you. Fly with them. Learn from them. Never settle for anything less than pursuing perfection in the air."
Page 1 of 4
Labels:
Advanced Ratings
,
Aviation Careers
,
Features
,
Flight Training
,
Flying Skills
,
Getting Your License
,
Jobs and Schools
,
Learn To Fly
,
Learning Center
,
People and Places
,
Pilot Skills
,
Proficiency
,
Pilot Safety