Tuesday, April 6, 2010
Dream Makers: Everyday Pilots Reaching For The Sky
When passion and determination combine, anything is possible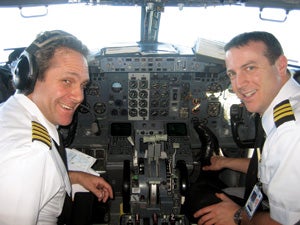 Neal Schwartz
Neal Schwartz
Neal Schwartz was just three, staring up at airplanes, when the aviation bug bit him. At 16, Schwartz went to his local airport in Westchester County, N.Y., and begged for a job at the FBO. "By working there, I got to be around instructors and renters, and I learned as much as I could about aviation," he explains. Throughout high school, he flew and worked at the airport. He earned his private certificate at 17 (his grandmother was his first passenger), and went on to pursue an economics major at Duke University. While in college, he flew through the Chapel Hill Flying Club, even ferrying an airplane from Florida to Los Angeles, which provided valuable hours and experience. "Then one day, I was flipping through a Sporty's catalog and saw an ad for a $15,000 aviation scholarship," remembers Schwartz. "I wrote an essay, got some recommendations, sent my transcripts and waited."
Weeks later, he got a call from Richard Collins, the famed instrument pilot and aviation author. "He asked me if I was still interested, and I said, 'Yes!'" The next day, Hal Shevers, owner and president of Sporty's, called Schwartz to tell him he had been chosen for the scholarship out of 897 applicants.
Schwartz took the $15,000 and trained at local FBOs and flying clubs to keep expenses low. "I stretched that $15,000 to include my instrument, commercial, multi and CFI ratings," he says. Schwartz became an instructor and built up enough hours to attract the regional airlines. He spent six years with ExpressJet, then landed a coveted job with the majors, flying Continental Boeing 737s throughout North and Central America from his home in Manhattan. "It's a dream come true," he says.
Schwartz has great advice for anybody pursuing an aviation dream: "It's simple," he says. "There's always a way. Whether it's working at the FBO or flying backseat for free on other people's lessons—there's always a way to become a pilot."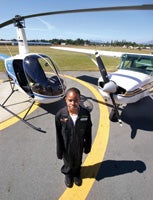 Jonathan Strickland
Jonathan Strickland
He's just shy of 18, but Jonathan Strickland already has earned his private certificate and instrument rating, and has commercial and CFI checkrides scheduled on his upcoming 18th birthday. He has been flying since he was eight.
"I fly myself to high school," he says, matter-of-factly. "I land in Van Nuys and just take a bus, ride my bike or skateboard to school." For Strickland, this is all part of a clearly defined goal of becoming a pilot for a major airline. "It's a dream I've had since I can remember," he says.
Strickland's journey began while traveling on airliners with his grandmother—something he enjoyed very much. When Strickland was eight, a pilot friend who flew for Delta took him for a ride in a Cessna 182, and Strickland was hooked. He continued to fly the 182 with his friend whenever he could. After hearing about Tomorrow's Aeronautical Museum, near his home in Compton, Calif., Strickland applied to the program, which is designed to help inner-city youths get involved in aviation.
Strickland was accepted and began flight instruction: He was a "natural stick," and at 14, he flew a helicopter to Canada with his flight instructor, and soloed both the helicopter and a fixed-wing airplane on the same day—a first for his age.
Strickland has amassed more than 380 hours in the air and is piloting a high-performance Beechcraft A36 Bonanza and preparing for his commercial checkride. He has been accepted to Embry-Riddle University to pursue a degree in aviation and his dream of becoming a captain on a major airline.
Strickland has a simple piece of advice for anyone pursuing aviation: "I can tell you for sure that good things happen to people who hang around local airports." He finishes our conversation with one last thought: "You have to be determined. If you're determined, nothing can stop you."
Page 2 of 4
Labels:
Advanced Ratings
,
Aviation Careers
,
Features
,
Flight Training
,
Flying Skills
,
Getting Your License
,
Jobs and Schools
,
Learn To Fly
,
Learning Center
,
People and Places
,
Pilot Skills
,
Proficiency
,
Pilot Safety