Tuesday, April 6, 2010
Dream Makers: Everyday Pilots Reaching For The Sky
When passion and determination combine, anything is possible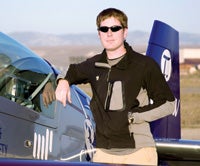 Ben Freelove
Ben Freelove
Fourteen minutes of the most intense flying you can imagine, in front of thousands of fans: It's a typical day for Ben Freelove. "I'm very lucky in that I get to work as a full-time aerobatic pilot," he says modestly. There are few sentences in aviation that would make pilots greener with envy. Freelove performs in air shows around the world as part of The Collaborators, a formation aerobatic team put together by air show master Sean Tucker. Freelove also teaches aerobatics at the renowned Tutima Academy of Aviation Safety in King City, Calif., and flies in international aerobatic competitions. Barely into his 30s, Freelove has what he calls, "the greatest job in the world!"
Freelove got his first taste of aviation as a kid in Dayton, Ohio. "I'd go to all the air shows," he remembers, "and I dreamed of becoming a pilot." Like most kids enamored with aviation, he wanted to become a fighter pilot, but his vision didn't meet military standards at the time. Instead, at 19, Freelove started flight training at his local airport, though he was totally broke. "It took me over a year to beg, borrow and steal enough to earn my private certificate," he laughs.
By his own admission, Freelove was "a nervous pilot," though watching aerobatics intrigued him. He read everything he could get his hands on about aerobatics, and worked up the courage to finally try it after earning his private ticket. Freelove recalls, "A guy at my local airport had an Extra 300, so I took a flight with him, and though it kind of freaked me out, it was the coolest thing I had ever done." The bug took hold immediately.
Freelove heard that California was the place to be for burgeoning aerobatic pilots, so he left Dayton, got some student loans and earned the rest of his ratings in the Bay Area. He got a job instructing at a flying club near Oakland, where he flew more than 1,000 hours yearly for three years. At the same time, he was honing his aerobatic skills at Tutima, one of the top precision flight-training schools in the country. "When Sean Tucker was looking for a new instructor," explains Freelove, "I was fortunate to get the call." Today, performing in air shows, competing and instructing, Freelove is living every kid's dream.
"Just start by going to your local airport," he suggests. "Some two dozen people that I met at airports have helped me along the way." He advises anyone considering flying to do it now: "There are lots of pilots who want to share aviation with you." Freelove realizes how fortunate he is to be doing what he does. "My career path has been pretty surreal," he smiles. "When I look back, it amazes me."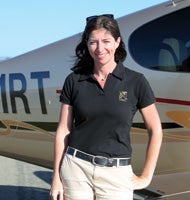 Rachel Tanzer
Rachel Tanzer
There's a thread of self-reliance, perseverance and creative thinking that runs through all the pilots who've made their dreams come true—Rachel Tanzer is no exception. On the way to her current gig as a training manager and demo pilot for Cirrus Design—one of the most innovative general aviation manufacturers today—Tanzer worked in the music business. Combining her two passions, she often flies with the movers and shakers of the entertainment world.
Tanzer is soft-spoken but focused and direct. She's someone who has made her dreams come true on her own terms. Her flying dreams began when her mother and sister pitched in to buy her a flying lesson for her 21st birthday. "Flying was all I ever wanted to do, and I was hooked early on," she says.
Her enthusiasm was so great that after earning her private certificate, she earned her instrument, commercial and CFI ratings within six months. The entire time, Tanzer was working in the music business both as an agent and as an artist-relations manager in Los Angeles. "It wasn't quite what I thought it was going to be," she remembers. "I needed a hobby, and flying became it."
After some soul-searching, Tanzer left the music business altogether and decided to go full-time into aviation. She was hired by Cirrus in 2004. Today, she teaches CFIs how to train in the Cirrus family of airplanes. She travels all over the country as a demo pilot, and with her connections in the entertainment world, she gets to fly some pretty famous people. "I don't know if I should give up their names," considers Tanzer, "but I fly with some amazing people and I see places that almost nobody gets to see." Her next goal is getting her type rating in the brand-new Cirrus Vision jet.
Tanzer believes that anybody who wants to fly can find a way. "Just start!" she suggests. "You find ways to make it work. We all do. You can find a way to finance it somehow—if it's washing airplanes or whatever. I really thought you needed a lot of money to fly, but I'm glad I figured out that's not true. Just don't get discouraged."
Page 3 of 4
Labels:
Advanced Ratings
,
Aviation Careers
,
Features
,
Flight Training
,
Flying Skills
,
Getting Your License
,
Jobs and Schools
,
Learn To Fly
,
Learning Center
,
People and Places
,
Pilot Skills
,
Proficiency
,
Pilot Safety