Tuesday, March 11, 2014
Embry-Riddle: Biggest, Oldest, Boldest
Embry-Riddle Aeronautical University continues to set the standard in aviation training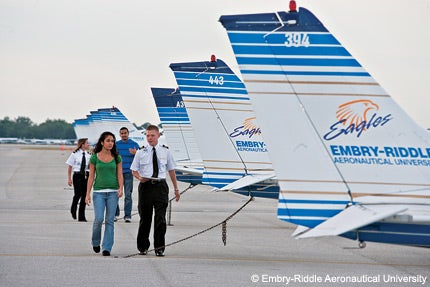 Total enrollment at ERAU university-wide is 32,000 full-time students.
In 1925, when barnstormer John Paul Riddle and entrepreneur T. Higbee Embry founded the Embry-Riddle Company at Lunken Airport in Cincinnati, Ohio, they probably had no idea their company would turn into one of the most recognized private aviation universities in the world. After morphing into an aviation training school to take advantage of the post-World War I fascination with aviation, they prepared some 25,000 aviators for combat in World War II. Today, Embry-Riddle Aeronautical University graduates astronauts, corporate pilots and test pilots and is the nation's largest supplier of air traffic controllers with bachelor's degrees to the FAA. Embry-Riddle's Aeronautical Science (professional pilot) program is the largest in the nation, so it's no surprise that airlines hire more pilots from Embry-Riddle than from any other collegiate aviation program.
Embry-Riddle ("ERAU" for short) operates two main residential campuses in the United States: Daytona Beach, Fla., and Prescott, Ariz. Its Worldwide Campus, serving both civilians and the military, operates 150 non-residential classroom locations in the United States, Europe, Asia and the Middle East, and also offers online instruction. University-wide, total enrollment is about 32,000 full-time students. International students comprise 15% of the student body at the Daytona Beach Campus and 6% at the Prescott Campus. ERAU is also addressing the growing need for engineers worldwide through its aerospace engineering program, the largest in the United States.
We spoke with Jerry Kidrick, Flight Chair at ERAU's Prescott campus, and Tim Brady, Dean of Embry-Riddle's College of Aviation in Daytona Beach, to get an update on Embry-Riddle, and to ask how the FAA's most recent training and rest minimums are affecting the nation's largest aeronautical university. We also wanted to see if ERAU is feeling the effects of a pilot shortage that appears to be coming fast.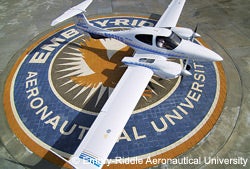 About the shortage, Kidrick commented, "The ERAU Prescott campus experienced a 3% growth in enrollment last fall. It is too early to determine the extent at which the pilot shortage will affect our enrollment numbers. However, the pilot shortage has been validated by numerous air carriers, and they have been prompted to offer bonuses for new hires and approached ERAU to refine bridge programs that identify potential new hires at the undergraduate level." Kidrick added that the school's students are deeply embedded with regional carriers through these bridge programs, and that some graduates will even be given advanced seniority given their connection to the carrier. The university's records seem to bear this out with 93% of graduates either employed or continuing their education. "In many cases [the bridge programs] involve an internship with the prospective air carrier," Kidrick noted, "which essentially turns into an extended interview."
As of August 1, 2013, all U.S. airline first officers are required to meet more rigorous minimum qualifications than have ever been in place and that were designed to improve airline safety after the tragic Colgan Air crash in Buffalo, N.Y., in 2009. The new rule mandates that airline first officers hold an air transport pilot (ATP) certificate that requires a pilot be at least 23 years old and have logged at least 1,500 hours of flight time. A "Restricted" ATP certificate allows pilots to be only 21 years old and have 1,000 flight hours, if trained in a four-year college or university-accredited aviation training program leading to a bachelor's degree. ERAU was on the forefront of this exclusion. "Immediately upon FAA action on the new rule, there was tremendous demand for the Restricted ATP among our graduates," Kidrick explained. "Our degree program was in the first cadre of FAA-approved programs in the country."
Page 1 of 2