Tuesday, March 11, 2014
Embry-Riddle: Biggest, Oldest, Boldest
Embry-Riddle Aeronautical University continues to set the standard in aviation training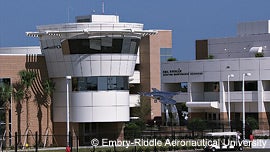 Embry-Riddle's two main residential campuses are at Daytona Beach, Fla., and Prescott, Ariz.
Embry-Riddle is also embedded in the military and scientific communities. The university has a $23 million contract with the U.S. Department of Defense that maintains the University's long-time status as the sole provider of aviation-related degree programs to the U.S. military in Europe. The school also conducts approximately $17 million per year in applied research. Its fleet of 88 training aircraft and 40 simulators and flight training devices (FTD) allow aviation students to keep up with changing technology and gain a wide variety of flight experiences. The bulk of the fleet consists of Cessna and Diamond training aircraft, but the school wisely includes an American Champion Decathlon for unusual attitude and upset training. In the past three years, Embry-Riddle Prescott has also added four Diamond DA42NG "Twinstar" multi-engine training airplanes to their fleet.
Academically, ERAU is tough to beat. They offer more than 40 undergraduate programs in everything from space physics to unmanned aircraft systems. The university also offers respected master's degree and doctoral programs in several areas of aeronautics including aerospace engineering, human factors and many others. ERAU also offers a number of non-degree programs. For those interested in the exploding field of unmanned aerial vehicles (UAVs), the University has 14 state-of-the-art Medium Altitude Long Endurance Unmanned Aircraft System (UAS) simulators capable of operating as individual pilot/sensor workstations or paired together to simulate the crew station of a UAS.
Kidrick told us the Prescott campus has added three new programs: a bachelor's in Cyber Intelligence and Security, a master's in Security and Intelligence Studies and a bachelor's in Astronomy. Brady said the Daytona campus added a new Bachelor of Science degree in commercial space operations and a brand-new CRJ-200 full-motion simulator. "Being the only college with a full-flight CRJ simulator, we are the only university that can fully prepare a right seat-ready first officer," added Tim Brady.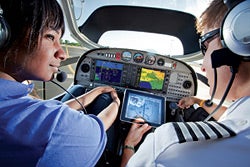 ERAU's "flagship" Aeronautical Science degree is currently undergoing a top-down review for academic and flight training synchronization. Kidrick said, "Ultimately, we plan for this program to bring our students from "zero" time through the CFI and ATP qualification in an efficient and cost effective manner." He added that graduates can work for the university as flight instructors and work on their master's degree at the same time, free of cost. "Our graduates will be the best qualified collegiate program graduates in the country."
Of course, a stellar education from such a respected institution doesn't come cheap. The 2013-2014 estimate to attend Embry-Riddle for one year for non-flight students is $42,294 including room and board. Add flight costs to that figure for pilot trainees. Still, what a student gains from attending ERAU is valuable, especially for those with a dream of becoming a professional pilot. "The future is very rosy for students who wish to become airline pilots," Brady said. He believes the current worldwide shortage of pilots will persist well into the future, and that ERAU graduates can only benefit. "We are the only university in the country which is totally focused on the aviation/aerospace industry," he added. "Our graduates are prized the world over."
Page 2 of 2