Tuesday, March 23, 2010
Nonflying Aerospace Careers
10 dynamic career fields worth considering
2
AIR TRAFFIC CONTROL:
Among the most challenging fields in aviation is ATC, where controllers are responsible for separating aircraft in controlled airspace. It can be a high-pressure job, especially during peak hours at busy facilities. According to the FAA, more than 15,000 federal controllers and 1,250 contract controllers handle civil traffic in U.S. airspace, alongside more than 9,000 military controllers. Controllers work on rotating shifts, which usually amount to a 40-hour week, though overtime may be required. For those who thrive on a challenge, the job pays well—averaging $109,218 per year as of March 2009 (according to the BLS). The FAA expects the workforce to remain nearly constant for the next eight years, but with many controllers approaching the mandatory retirement age of 56, a significant number of new hires will be needed. While it's possible to be hired "off the street" (assuming you have a four-year college degree, three years of work experience or both), the FAA fills most positions either with former military controllers or graduates from one of the 31 schools participating in the FAA Air Traffic Collegiate Training Initiative. Selection as a controller is followed by 12 weeks of training at the FAA Academy, and then on-the-job training as a developmental controller at an ATC facility for two to four years. Dr. Jose Ruiz, associate professor of aviation management and flight at Southern Illinois University Carbondale, says, "The occupational outlook for air traffic controllers will continue to remain positive for at least the next 10 years."
3
AIRLINE DISPATCH:
In principle, the pilot always is responsible for safely completing any flight, and that's certainly true of airline captains. In practice, with transoceanic international flights of 12+ hours, the captain needs help to contend with unexpected weather, winds and other problems en route. That's where airline dispatchers come in, sharing responsibility with the captain for initiating scheduled flights, and releasing flights to crews based on weather conditions at the departure and destination airports. Dispatchers are required to pass an examination comparable in most respects to that required for the airline transport pilot (ATP) certificate required of airline pilots; hours for dispatchers are limited by federal regulations. Joseph Miceli, president of the Airline Dispatcher Federation (and a 23-year veteran of United Airlines), told us there are about 5,000 licensed airline dispatchers in the U.S., and more internationally. He calls the outlook for the field "kind of a steady situation—airlines are trying to save jobs wherever possible, avoiding layoffs through attrition. You still need a proper number of dispatchers for flight following." Salaries can run from $20,000 to $40,000 for new hires at regional airlines, while, according to Miceli, "The majors start at $50,000, and can go to six figures with experience."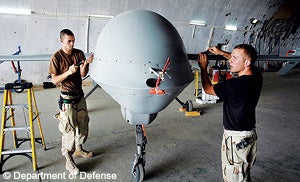 4
ENGINEERING:
Every aerospace vehicle, whether manned or unmanned, powered by a piston engine, jet or rocket, is designed by engineers. These professional jobs require a four-year bachelor's degree as a bare minimum. Most engineers have a regular 40-hour week, but some work rotating shifts or odd hours, depending on when tests need to be conducted. The most recent BLS data shows 89,500 engineers of all types employed in aerospace product and parts manufacturing, with aerospace engineers starting at an average salary of $56,311, rising to $134,570 with additional education and experience. Paul Kostek, a distinguished lecturer for the American Institute of Aeronautics and Astronautics, gave us a realistic picture of the outlook for this profession: "Manufacturers are moving to a slow-growth model, holding onto the people they have, and slowly adding new hires over time. I don't expect to see large-scale hiring until the broad economy picks up." Angie Clover, a design engineer at Rolls-Royce, said she's had three different positions in the last seven years, and added: "Determination and perseverance are keys to a successful future in aerospace and defense—you don't win a major defense or civil engine contract every day, but the work you do over the years makes it possible to win over time."
5
AVIATION/AIRPORT MANAGEMENT:
Aviation/airport managers take care of the business side of aviation. According to University of North Dakota Professor Kim Kenville, "The job comes down to managing people." A four-year degree is required, and entry-level pay is in the $30,000 to $40,000 range, increasing to six figures with experience. Kenville says that airport hiring has slowed, but jobs are still available—particularly at consulting firms, which handle issues including runway, ramp and hangar design, airport security and environmental review—driven in part by federal stimulus funds for "shovel-ready" construction projects. Students graduating from UND's aviation management track currently need "around six months" to find a permanent position, and Kenville believes that's typical. The odds can be improved by starting with an internship, which she called "readily available," paying $10 to $15 per hour (frequently subsidized by state departments of transportation). Outside of airports, Kenville says that most business connected to general aviation is slow, including insurance and financing, with the exception of repossessing aircraft whose owners have defaulted on loans.
Page 2 of 4