Tuesday, April 5, 2011
Outside The Cockpit
A look at 10 nonflying careers
Pilots aren't the only people who make a career in aviation and space. Airplanes and spacecraft are designed by engineers, built by factory workers, serviced by mechanics and technicians, and overseen by air traffic (or spacecraft) controllers. Airline captains work closely with dispatchers. Flight planning depends on weather forecasts from meteorologists. Managers supervise all these workers to keep the business of aviation running smoothly. So, for every job as a pilot, there are several more on the ground.
Unfortunately, while most economists agree that the recession is over for the country as a whole, things are still slow in most aerospace industries. Airlines are being hit by rising fuel costs, and the resulting low profits make it difficult for them to buy new (more fuel-efficient) hardware. Business aviation is slowly growing, helped by tax incentives, but new production of general aviation aircraft is still extremely slow. And military and other federal aviation and space programs are certain to be targets in deficit-cutting moves. Nonetheless, there continues to be hiring in the industry, in large part to replace retirees. And the new field of Remotely Piloted Aircraft (RPA—formerly UAV) operations remains a bright spot with unlimited potential for the future.
One common thread held true while researching this article: The more education and experience you have, the better your odds of being hired. Even blue-collar jobs today require basic computer skills, and as more people compete for fewer professional jobs, standing out from the crowd with an advanced degree, unusual experience or both, helps.
Here are nine career fields outside the cockpit—and one that involves a cockpit of sorts, but never leaves the ground:
1.
Remotely Piloted Aircraft
(RPA, formerly UAV Operations) is a brand-new field that many people expect to expand rapidly. An expert told us that in the long run, every flying job that's "dangerous or dirty" will move to remotely piloted vehicles, mentioning fire fighting, pipeline patrol and agricultural spraying as examples. There are at least two unique career fields associated with RPA operations: remote pilot and sensor operator. Pilot qualifications are basically the same as those for entry-level airline jobs: An FAA commercial pilot license, preferably multi-engine (though single-engine may be enough, depending on the vehicle) with several hundred hours' experience. A four-year degree, and Airline Transport Pilot and Flight Instructor certifications are a definite plus, and for the jobs available now, U.S. citizenship is required. Salaries start at around $50,000, and reach $75,000 with a couple of years of experience. As Kansas State University professor R. Kurt Barnhart told us, "It sure beats CFI pay!" Most of the available jobs today are overseas, working for defense contractors or along the U.S. border—but that's almost certain to change. Barnhart told us that RPA operations out of small airports are becoming "almost routine," and expects the FAA to begin introducing new rules to codify RPA operations later this year. We recently noticed a new chart symbol for UAVs on the latest editions of U.S. sectional aeronautical charts.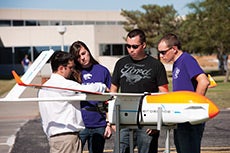 Slow, steady growth is seen for engineers, who design aircraft and aerospace vehicles. These jobs require a four-year bachelor's degree in engineering or a physical science.
2.
Air Traffic Controllers
keep instrument pilots safely separated and offer advisory service to others. This is among the most challenging of all aviation careers. A senior controller we spoke to some time ago described his job at the FAA's Fort Worth Center as "like playing three-dimensional chess games every day for 30 years, and never losing a game." According to the FAA, more than 7,000 federal controllers were hired in the last five years—nearly half of the federal ATC workforce—mainly to replace older controllers who reach the mandatory retirement age of 56. Controllers work rotating shifts, which usually amount to a 40-hour week, though overtime may be required. New hires start at $37,070 after graduating from the FAA's ATC Academy, but further raises with experience push the average controller's salary past six figures, according to the U.S. Bureau of Labor Statistics (BLS). Initial training is followed by on-the-job training as a Developmental Controller at an ATC facility for up to four years. Dr. Jose Ruiz, Associate Professor of Aviation Management and Flight at Southern Illinois University, Carbondale, expects that ATC "employment opportunities will remain steady for the foreseeable future."
Page 1 of 4