Tuesday, July 29, 2014
Pay To Play: Eagle Jet International
Eagle Jet's unique "internship" program builds hours fast
In aviation, a great paradox has always existed that to get a job as an airline pilot, one has to first build multi-engine time in airliners, but that can't be done without being an airline pilot. That circular logic says that to get experience, you need experience. The traditional way to build that experience has always been instructing. And, if an instructor was lucky, he or she could also scrounge jobs flying small twins on short freight runs. A few years of bumming twin jobs and instructing would give an applicant enough experience to at least get an interview with the airline. If instructing wasn't your bag—or the opportunity wasn't available—you were out of luck. Then along came Eagle Jet International.
Formed in 1996, Eagle Jet International is an alternative to instructing. The company provides programs whereby potential airline candidates can build significant multi-engine time in both turboprops and pure jets toward getting hired for a regional airline. "Our original idea was to find a better way to build flight time rather than as an instructor," says Eagle Jet founder and President, Rick Gabor. "At the time, there were too many instructors and not enough schools, so building time took forever."
Eagle Jet specializes in building time in a hurry. The program is simple: Students come to Eagle Jet with a commercial certificate, and both multi-engine and instrument ratings. They're carefully screened specifically for their instrument and commercial pilot skills. If they pass (and 30% don't), they move into an intense and focused training program where they learn skills and procedures specific to the airlines. Then the candidate is placed into the right seat of a commercial Part 135 operator flying actual flights in aircraft that range from Beech 1900s and ATRs to European JAA-ATP Boeing 737 programs. The student pays for a specific block of experience in that aircraft, and packages run from 100 to 1,250 hours depending on the aircraft type. What the student walks away with is actual time in multi-engine aircraft flying commercial operations in real scenarios—something airlines are clamoring for.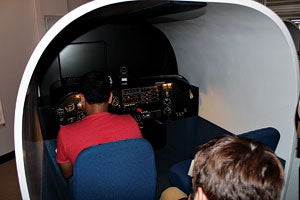 Eagle Jet helps airline candidates build flight time outside of the traditional instructor path.
"What we have is something of an airline pilot internship," Gabor explains. "Students are paying for actual experience at a fraction of the price of a flight school." For example, buying a block of 250 hours in a Beech 1900 is priced at just over $20,000 as of this writing. The same block in a Fairchild Swearingen Metroliner would run $21,800, while a 500-hour block in a Learjet or Falcon 20 would cost a student $33,500. These prices include everything from training (including ground school and sim time) to a line check in the aircraft. The operators aren't part of Eagle Jet, but have an ongoing relationship with the company due to the quality of their pilots.
The training to be qualified as a Part 135 First Officer on most of these aircraft takes approximately four to seven weeks, and consists of turbine transition, ground school, flight and simulator training, and an FAA checkride. Eagle Jet International is based in South Florida, though they have training bases in different states. Once pilots are trained and qualified, they're moved to one of several bases located throughout the U.S. and Canada, where the operators are based. Most flights are scheduled cargo operations and take place during the night. Each pilot flies approximately 40 to 60 hours per month. Most of the flights are domestic with some bases flying to Canada, Mexico and the Caribbean.
Page 1 of 2