Tuesday, May 20, 2008
Pilot Career: From Dream To Reality
Everything you need to know to step into a professional cockpit the modern way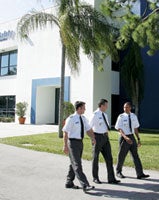 Paying For It
Becoming a pilot is expensive. Between training and tuition, costs can surpass $120,000 to go from zero time to first officer with a four-year degree from a premier school. Financial aid comes in four basic flavors, and most students will use a combination of these to pay for their training and education.
Government loans are the traditional method of paying for your education. There are two main federal loan programs: the Stafford and the Perkins loans. Each varies in terms and requirements. These are offered through the Student Financial Assistance (SFA) program. Another government loan aimed at parents is called the Parents Loan for Undergraduate Students (PLUS). Finally, the federal "consolidation" loan is a low-interest, no-collateral loan available through the Department of Education.
Government grants are also available and don't have to be paid back. The two largest grant programs
offered by the government are the Federal Pell Grant and Federal Supplemental Education Opportunity Grant (FSEOG). Each state's government also awards grants.
Specialty loans from nongovernment sources are another option. These "alternative" loans require good credit or a cosigner, but carry terms and options that are attractive to student borrowers and are usually more favorable than traditional loans. Many are targeted at aviation.
The best kind of money is free money. Scholarships and grants are awarded to students based on merit, talent, special circumstances and other criteria. One trick to using scholarships effectively is to apply for many small ($200–$1,000) grants instead of just going after the big money, because fewer people apply for them.
"Thousands of dollars in scholarships go unrewarded because people are too lazy to write an essay," says
San Juan's Shropshire. She recommends that students apply for everything they can. Combining several small scholarships can pay for a private or an instrument ticket. In most cases, all they require is a little research, an application and a short essay. "Get aggressive," she suggests. "And watch the application deadlines."
Specialty scholarships are excellent if you meet their requirements. For example, a nonprofit organization called Able Flight awards aviation scholarships to people with disabilities. Women in Aviation International (WAI) offers dozens of scholarships sponsored by Cessna, Delta, Boeing and many other groups. AOPA and EAA both offer scholarships, as do most of the aviation colleges and academies. The number of scholarship sources is staggering (see "Financial Aid" on page 40 for details).
Page 4 of 5