Tuesday, May 20, 2008
Pilot Career: From Dream To Reality
Everything you need to know to step into a professional cockpit the modern way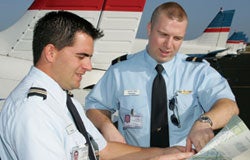 The Future
At this writing, airlines are swimming in a quagmire of FAA inspection woes, skyrocketing fuel costs and looming bankruptcies. Still, the world's insatiable need for air travel shows no signs of decline.
Even with all the instability, Darby forecasts that 8,000 to 10,000 pilots will be hired in 2008. "It's too early to assess, but low-cost carriers that are healthy are still hiring," he says. "The demand overseas is also huge. Some of these carriers need 1,000 captains a year in everything from business jets to Boeing 777s."
The International Pilot's Association is projecting an 18% yearly growth rate in the airline industry. According
to the FAA, air travel will reach 1.2 billion passengers by 2020, and they're projecting a need for 20,000 new pilots in 2009 alone.
The International Air Travel Association is even more optimistic. With projections that the global air fleet will grow by 17,000 aircraft by 2020, the group predicts a pilot shortage of 42,000 pilots by that time.
Is aviation still a bankable career? Darby thinks so: "Though the quality of life for pilots changed after 9/11, top pay is still well over $200,000 a year in many cases." He adds that senior pilots make even more: "You can't just look at the hourly wage. When you look at profit sharing, stock options and the fact that pilots with major carriers work about 15.2 days a month, it's a worthwhile job."

Exciting Changes
The shortage of pilots has created an environment of invention and creativity in the industry. One development is the emergence of "sponsor" programs where air carriers foot the bill for all the certificates and ratings for a prescouted pilot candidate. In exchange, the student signs a long-term employment contract with that carrier. It's similar to the multiyear commitment required of military pilots.
In all, the possibilities for those dreaming of an aviation career are more exciting than ever. Those of us who learned to fly in the days of 2,000-hour minimums for most pilot jobs are astounded at the changes in the industry. If you've ever dreamed of making your living in the cockpit, plying the skies from the business end of a commercial jet, now is the time to go after that dream. In today's flying world, even the sky is no longer the limit.


Other Resources
The Internet is a vast repository of information for people who want to launch a career as a professional pilot. There are also hundreds of books on the subject. Here are some of our favorite sites and reads.
Resource
What It Is
learntoflykit.com
A one-stop resource for those just getting started in aviation. Get free materials and a free issue of Plane & Pilot.
aviationinterviews.com
mypilotcareer.com
Both are part of several interview "gouges" or guides with airline-specific information. Check for currency of data.
willflyforfood.cc
A famous website and useful resource for airline pilot information, including gouges, current pay information and much more.
jet-jobs.com
Kit Darby's website. Dedicated to helping pilots make informed career decisions through an array of resources.
iswap.org/Tips.pdf
A fantastic (and free) mini-book on becoming an airline pilot from the International Society of Women Airline Pilots.
Pilots of the Line by Sky Masterson
A series of stories about being an airline pilot in a post-9/11 world.
Professional Pilot's Career Guide
by Robert P. Mark
Published in 2007, this is a valuable employment tool about everything involved in becoming an airline pilot.
To Be an Airline Pilot
by Andrew Cook
Written in 2007 by a pilot who had just completed airline training.
North Star Over My Shoulder by Robert Buck
Read what it was like in the glory days of being an airline pilot. A classic.


Page 5 of 5