Tuesday, September 7, 2010
Pilot Careers 2010: A Brave New World
With the industry showing signs of life, preparation and training soon will meet opportunity for prospective pilots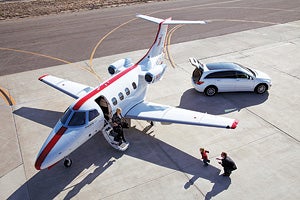 JetSuite Air
Charter And Air Taxi
Charter and air taxi flying used to be the province of the rich. The cost of chartering an airplane to go on a short hop was too prohibitive for most people. But as airline travel has become an endless litany of poor customer service, delays and security hassles, more middle-class travelers have turned to air charter. It's an area that experienced exponential growth since the events of 9/11 and continues to expand.
There are some interesting charter companies out there, like JetSuite Air (
www.jetsuiteair.com
) that operates a brand-new fleet of Embraer Phenom 100 jets. While business-jet sales have dropped considerably, the downturn has made prices come down and has resulted in a surprising benefit: Suddenly, jet charter is affordable to the well-off, not just the super-wealthy. This is good news for pilots who seek the allure of an air-conditioned, glass-panel, luxury, mini-jet cockpit. To boot, most charter pilots are home every evening, and flights are generally of short duration.
Air taxi is another rapidly growing market segment that specializes in ultrashort hops and airport-to-airport transportation. Interesting developments include companies that use four-seat, technically advanced aircraft (TAA), like the Cirrus and Diamond, as air-taxis. They employ pilots who may not have as much multi or turbine time as would be required for corporate departments or regional airlines. Air taxi and charter are usually stepping stones to corporate or airline cockpits.
Fractional jets usually are categorized with air taxi and charter. Since most fractional aircraft owners aren't pilots, they need pilots to fly their aircraft. This is a growing area, with companies like Xojet, Avantair, NetJets and others. Most of these companies require between 1,500 and 3,000 hours total time, with a minimum of 300 to 500 hours of multi time, to qualify as a pilot. Air taxi and charter salaries are all over the board, with many starting between $30,000 and $50,000.
Other Opportunities
There are many other areas for professional pilots to look into. Pipeline patrol, wildlife work, traffic monitoring, banner towing and seaplanes are just a few. Pilots who fly these areas are even more passionate about their jobs. Maybe flying taildraggers off glaciers in Alaska is your cup of tea, or flying low-and-slow pipeline patrols, or perhaps piloting helicopters in fire suppression, or wildlife service tagging? There's an almost endless variety of jobs for pilots with a passion to fly for a living. The doom and gloom, while real at the moment, is giving way to a bright future where training will meet opportunity.
"The time to train is when the industry is slow," says FltOps' Louis Smith. "If you're ready when the demand hits, you'll have your pick of flying jobs."
Page 4 of 10