Tuesday, January 28, 2014
Spartan: Giving The FAA What It Wants
Facing tougher requirements, Spartan College of Aeronautics and Technology launches new programs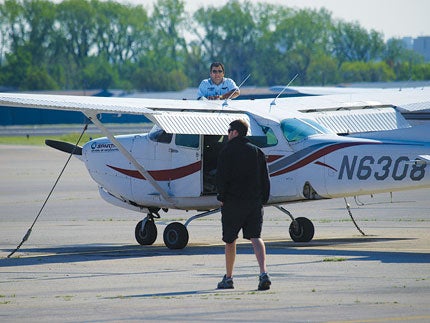 To meet new FAA minimums, Spartan graduates build time by instructing at the school.
The last few years have brought some of the most sweeping changes to commercial pilot training that we've ever seen in the industry. In November 2013, the FAA passed still another rule that adds more training mandates to the already tightened requirements for commercial pilots passed in August. These new rules are expected to cost the aviation industry between $274.1 and $353.7 million to implement, while the estimated benefit of the rules will nearly double to $689.2 million. A large part of the burden of these new mandates will fall upon flight training academies. One of the oldest and most respected flight academies today is Spartan College of Aeronautics and Technology in Tulsa, Okla.
The goals of these new FAA requirements are better stick-and-rudder training for all pilots, closer monitoring of pilot proficiency, and higher experience levels before being allowed into an airline cockpit. Training academies like Spartan are the "front lines" where ab initio training supplies pilots and technicians to every corner of the aviation industry. We caught up with Spartan to see how they're adjusting to the new training demands.
"Certainly, these new FAA requirements are affecting the training industry," said Damon Bowling, Vice President, Admissions, for Spartan. "While we're not yet seeing changes in the number of new students, we are offering new programs to meet these requirements."
Spartan is one of the best-known aviation training academies, having graduated more than 90,000 aircraft technicians and pilots from its aviation programs since 1928. It's a private degree-granting technical college. Its 40-aircraft Cessna and Piper training fleet and Redbird simulators complement a full FAA-approved Part 141 curriculum. Career tracks include not just professional pilot options, but a wide variety of technician programs including two-year and four-year degrees, and various diploma options.
Spartan has also trained thousands of military pilots, from the early days training U.S. Army Air Corps and British Royal Air Force pilots, to today as Spartan provides Cessna 182 and Grand Caravan training for the U.S. Air Force. Since the school also operates its own maintenance and service departments, Spartan is a kind of "one-stop shop" for aviation education and training.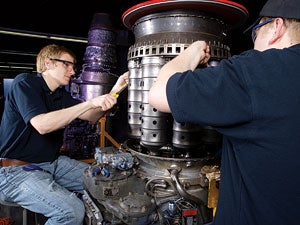 Aviation technicians will be in high demand according to industry projections.
New requirements for pilots mean getting them into the cockpit and building as many hours as possible. Spartan has focused on fulfilling this need. "We have two new flagship programs," Bowling explained, "a 12-month flight training diploma and a 17-month associate of applied science degree program." Bowling added that these new programs are meant to get the student into flight training as soon as practical, so they can concentrate on the educational side while building time as a flight instructor for the school. "With regional pilots now needing 1,200 to 1,500 hours to get hired, building time as an instructor is the most efficient way to build time."
The new 12-month diploma program does just that, with students earning their private, commercial SEL and MEL, instrument and CFI ratings. By the time they're finished, they'll graduate with more than 230 hours. The focus of the diploma program is flying, with the student free to pursue the educational side once they're finished with the flying curriculum.
Another benefit of this program is that it's approved for veteran's education benefits (GI Bill) and other forms of financial aid, and it's an ACCSC (Accrediting Commission of Career Schools and Colleges) accredited program.
Page 1 of 2