Tuesday, January 28, 2014
Spartan: Giving The FAA What It Wants
Facing tougher requirements, Spartan College of Aeronautics and Technology launches new programs
Although regional airlines today don't require a college degree, many of the major airlines do, and a candidate with a degree will have a leg up against the competition at the regional level. Spartan's new 17-month degree program was designed for students who want to combine education with their flight training. Upon completion, students in this program will graduate with an associate of applied science in aviation flight and will have earned about 250 flight hours. For those looking toward a bachelor's degree, the 17-month AS degree program earns the student 87 semester credit hours. Completion of this program also meets the prerequisites to enroll in Spartan's bachelor's degree program.
Bowling adds that this is a flexible option for students. "They can take their general education classes on-campus or online." Also a Part 141 curriculum, this program awards graduates all ratings through the multi-engine and CFII. Bowling explains that instrutors who have built flight hours will secure positions from regional first officers to corporate pilots. "Our emphasis is placement first," he says. "Although never a guarantee, we don't create a program unless we know we can place the graduate in a paying job that utilizes these skills."
Spartan also offers other degree and non-degree programs, including an aviation management program, as well as online associate and bachelor's degree courses with flexible completion. The school is also a participant in the National Intercollegiate Flying Association competitions at the regional and national level. Flight training students can compete at various levels based on individual experience. Spartan's NIFA trophy case is full of previous awards and trophies earned by the Spartan NIFA team.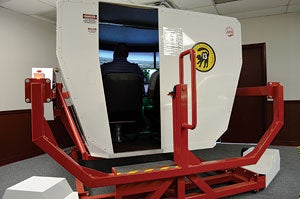 A Redbird full-motion simulator complements Spartan's 40-aircraft training fleet.
Of course, Spartan has always excelled in supplying technicians to the industry in avionics, airframe, and engine maintenance and non-destructive testing. FedEx recently donated a Boeing 727-200 to Spartan's aviation and avionics maintenance program, where it's used as a testbed for a number of courses. The latest Bureau of Labor Statistics Occupational Outlook Handbook reports that the median annual wage of aircraft mechanics and service technicians was $53,420 in 2010, with job prospects better for those with an Airframe and Powerplant (A&P) certificate and a bachelor's degree in aircraft maintenance. Also, Boeing's recent Market Outlook predicts a need for 556,000 new technicians during the next 20 years, so this is a lucrative area for students.
As training for professional pilots continues to change, and as the signs of a real pilot shortage become increasingly evident, training academies like Spartan will play a larger role in keeping our airlines supplied with pilots and technicians. In Spartan's case, the low cost of living in Tulsa, extensive training facilities on three campuses and 85 years of experience in aviation all combine to make the school an excellent destination for those seeking a serious aviation career. Contact
www.spartan.edu
or call (877) 628-2240.
Page 2 of 2