Flight Training
Our flight-training articles can help you become a better pilot. From getting a license in two weeks to advance flying techniques, our pilot training for general aviators cover all the information you need.
Tuesday, May 25, 2010
Stretching Your Wings
Advanced training is the ticket to taking your flying to the next level

One of the most popular phrases in general aviation is "license to learn."
Tuesday, January 26, 2010
Learning To Fly 2.0: Cooler, Safer And More Fun Than Ever
Big changes in technology, manufacturing and design have changed the way we learn to fly

Imagine it: You're training for night cross-country flying. The evening is moonless VFR. Your weather briefing says your route is clear. The synthetic vision feature of your glass instrument panel displays everything—including the runway centerline—as if illuminated on a clear day.
Tuesday, December 1, 2009
Kings Of The Sky
Spend a day with John and Martha King and the hotly anticipated Cessna Skycatcher

"So what are they like in person?" is the first question my pilot friends ask when I tell them I've spent a day with John and Martha King, the well-known founders of King Schools.
Monday, November 2, 2009
The Checkride Chronicles
A year in the life of a designated pilot examiner

Who's the judge beside you in the cockpit, deciding whether you're worthy of receiving aviation's highest honor (a license to learn)? Hopefully, it's someone who'll make your entry into the world of aviation less than turbulent.
Tuesday, August 11, 2009
Sporty's Foundation: The Future Of Aviation
One child at a time, Hal Shevers and his foundation are keeping aviation alive

If we don't get more young people interested in every aspect of general aviation, it will simply disappear as we know it," Hal Shevers, the founder and chairman of Sporty's Pilot Shop, tells me as he punctuates his sentence with a long pause and his piercing eyes.
Tuesday, July 28, 2009
Ticket To Ride III
Part III: Don't get cocky, kid—You've soloed. Time to prep for The Ride!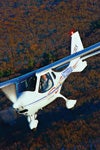 Right after soloing in 860LS, the lovely Flight Design CTLS, I feel light as a cloud.
Monday, May 11, 2009
Ticket To Ride II
Part II: Practice, practice, practice, home study, and what? Time to solo already? Gulp.
Tuesday, April 21, 2009
Looking For 200 Knots
Forty years ago, the goal was 200 mph. Today, it's 200 knots.

Fast feels good. For those of us obsessed with clocking along at the velocity of a Lamborghini, speed is the kinesthetic equivalent of beauty.

Tuesday, April 21, 2009
From Cirrus To Citation
JetAviva puts its clients into the left seat of light jets

Through my Lightspeed Zulu headset, I hear a confident voice: "Denver Center, Citation One Three Zulu Mike, vacating flight level 390 for 240, smooth ride."
Tuesday, April 7, 2009
TransPac Aviation Academy
Drawing from its Pan Am training heritage, TransPac positions itself for the future

Tradition goes a long way in aviation. A rich history aloft is respected and admired, whether it applies to pilots, aircraft or—in the world of ab initio training—flight academies. With its legacy steeped in the fabled lore of one of the greatest airlines in history, Pan Am International Flight Academy is long on tradition and legacy.