Flight Training
Our flight-training articles can help you become a better pilot. From getting a license in two weeks to advance flying techniques, our pilot training for general aviators cover all the information you need.
Tuesday, January 26, 2010
Learning To Fly 2.0: Cooler, Safer And More Fun Than Ever
Big changes in technology, manufacturing and design have changed the way we learn to fly

Imagine it: You're training for night cross-country flying. The evening is moonless VFR. Your weather briefing says your route is clear. The synthetic vision feature of your glass instrument panel displays everything—including the runway centerline—as if illuminated on a clear day.
Tuesday, December 1, 2009
Kings Of The Sky
Spend a day with John and Martha King and the hotly anticipated Cessna Skycatcher

"So what are they like in person?" is the first question my pilot friends ask when I tell them I've spent a day with John and Martha King, the well-known founders of King Schools.
Monday, November 2, 2009
The Checkride Chronicles
A year in the life of a designated pilot examiner

Who's the judge beside you in the cockpit, deciding whether you're worthy of receiving aviation's highest honor (a license to learn)? Hopefully, it's someone who'll make your entry into the world of aviation less than turbulent.
Tuesday, August 11, 2009
Sporty's Foundation: The Future Of Aviation
One child at a time, Hal Shevers and his foundation are keeping aviation alive

If we don't get more young people interested in every aspect of general aviation, it will simply disappear as we know it," Hal Shevers, the founder and chairman of Sporty's Pilot Shop, tells me as he punctuates his sentence with a long pause and his piercing eyes.
Tuesday, July 28, 2009
Ticket To Ride III
Part III: Don't get cocky, kid—You've soloed. Time to prep for The Ride!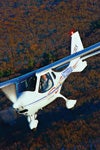 Right after soloing in 860LS, the lovely Flight Design CTLS, I feel light as a cloud.
Monday, May 11, 2009
Ticket To Ride II
Part II: Practice, practice, practice, home study, and what? Time to solo already? Gulp.
Tuesday, April 21, 2009
Looking For 200 Knots
Forty years ago, the goal was 200 mph. Today, it's 200 knots.

Fast feels good. For those of us obsessed with clocking along at the velocity of a Lamborghini, speed is the kinesthetic equivalent of beauty.

Tuesday, April 21, 2009
From Cirrus To Citation
JetAviva puts its clients into the left seat of light jets

Through my Lightspeed Zulu headset, I hear a confident voice: "Denver Center, Citation One Three Zulu Mike, vacating flight level 390 for 240, smooth ride."
Tuesday, April 7, 2009
TransPac Aviation Academy
Drawing from its Pan Am training heritage, TransPac positions itself for the future

Tradition goes a long way in aviation. A rich history aloft is respected and admired, whether it applies to pilots, aircraft or—in the world of ab initio training—flight academies. With its legacy steeped in the fabled lore of one of the greatest airlines in history, Pan Am International Flight Academy is long on tradition and legacy.

Tuesday, April 7, 2009
Weather In The Cockpit
XM Weather provides real-time information in the cockpit for pilots who are serious about their weather decisions

Ask most pilots what subject in aviation they wish they knew more about, and a majority will answer, "weather." Indeed, while forecasters do occasionally still get it wrong, and even the best meteorologists acknowledge that we still have much to learn, the science of weather prognostication improves each year.

Tuesday, April 7, 2009
The Right Way To The Left Seat
How to realize your dream of becoming a professional pilot

Flying is in the blood of certain individuals. Some of us plan a career in the cockpit from an early age, and we pursue it to the exclusion of everything else. Others keep their aviation goals quietly smoldering, always on a back burner ready to emerge at the right time. For various reasons, they may alight in a different direction, attain career goals outside of aviation and pursue vocational paths that seem far detached from flying. But many of them come back.

Tuesday, March 10, 2009
Ticket To Ride
Earning a sport pilot license: Part I

Enough trash already. This endless washboard-road turbulence promises to reintroduce me to the hot dog and greasy fries I just ate. Note to self: Next time, have an avocado salad.
Tuesday, February 24, 2009
Sport Pilot Daze
What's up with the light-sport ticket, and what/where/when can I fly with it?

Behold the rapidly beating heart of light-sport aviation: A YouTube video chronicles a pilot's dead-stick takeoff. Not landing...takeoff. He points his engine-off LSA down a 35-degree mountain slope, rolls into a hang glider–style launch and lands—still dead stick—on a sandbar 1,500 feet below and two miles away.

Tuesday, January 27, 2009
Learn To Fly: Fun Things You Can Do With Your Certificate
Flying an airplane is an unmatched experience, and you can do some amazing things once you earn your certificate

Ah, if only you knew how to fly! You could escape the shackles of your humdrum life and soar above its stresses. You could wake up in Nebraska, eat a cheeseburger for lunch in Colorado and settle in for the night on a crystal lake in Idaho. You could fly biplanes or jets or spiffy little yellow Cubs with smiling bears painted on their tails. But how much will it cost, how long will it take and how safe is it? What can you do with a pilot's license?
Monday, June 23, 2008
Wingipedia, Part III
In our final installment, we conclude with "Alberto Santos-Dumont" through "Zulu time"

We've finally reached the end, my friends. In "Wingipedia, Part I" [March 2008], we covered "acrobatics through "induced drag." And in "Part II" [May 2008], we took care of "Jenny" through "roll." It has been fun, but our aviation version of Wikipedia has reached the end of its line. Wikipedia, which asserts that its name is "a portmanteau of the words wiki (a type of collaborative website) and encyclopedia," is an online encyclopedia that's written and edited by its visitors, i.e., people like you and me.
Thursday, May 1, 2008
Wingipedia, Part II
In this edition, "Jenny" through "roll"

Last month, we brought you the first installment ("acrobatics" through "induced drag") of Wingipedia, our aviation-based encyclopedia. Here, we present the second installment. If you think that something's missing, log on to planeandpilotmag.com to contribute your own additions.

Thursday, May 1, 2008
Pilot Careers 2008
Get inside the cockpit

Opportunities for professional pilots are at record levels for civilian aviators. No matter what your goal, if you work hard, fly well, present yourself professionally and are flexible with schedules and work locations, chances are extremely good that you'll find a professional pilot seat waiting for you.
Saturday, March 1, 2008
Wingipedia
In this edition, "acrobatics" through "induced drag"

The computer generation has come to depend on digital explanations for everything courtesy of Wikipedia (and, no, we don't know where the name came from). That being the case, we thought we'd come up with our own, more common sense, aviation-based encyclopedia, hence "Wingipedia." If you think something's missing, add your two cents through the link at the end of this article.
Tuesday, May 1, 2007
Greasing It On
Smooth handling: some advice on how to make every landing a squeaker

On any given flight, the landing is the maneuver that concerns pilots the most. It concerns the pilot because, when it comes to aircraft handling, the takeoff is pretty simple, and once in the air, controlling the aircraft is far less complicated than driving a car in traffic. Nevertheless, at the end of every flight is the dreaded landing. Every professional pilot has found his or her techniques for a smooth landing. A perfect landing every time under all ground and wind conditions isn't easily obtainable or necessary for a safe flight.
Thursday, March 1, 2007
Test Yourself
Let's play the Practical Test Standards Game again

There's a wonderful line in a Toby Keith song that laments, "I'm not as good as I once was, but I'm as good once as I ever was." It's a bar room tale complaining about the aging process and the awful fact that it can't be stopped. Luckily, that's not necessarily true of pilots. Flying isn't about party stamina but about skill, and that doesn't have to slide downhill just because time is passing—assuming, of course, a pilot wants to halt that erosion.
Thursday, March 1, 2007
Learn To Fly: Solo At 14
A 14-year-old boy, trained in Compton, solos both a helicopter and fixed-wing aircraft!

If anyone thinks that they can't do what they put their mind to, they should meet Jonathan Strickland. Like any typical teenager, his vocabulary gravitates toward words such as "yeah" and "cool." But what sets him apart from the rest is quite extraordinary. Jonathan can't drive a car yet, but he can fly both an airplane and a helicopter!
Thursday, February 1, 2007
Earning A Tailwheel Endorsement
Andover Flight Academy's stick and rudder training brings out the bush pilot in everyone

It's still an airplane," insisted Damian DelGaizo, as I hesitantly leveled out over a grass strip much shorter than I was used to. "Don't overthink it." In the flare, I tried my best to pretend that the Top Cub's main wheels weren't actually there, per Damian's coaching, but it's not that easy to ignore 31-inch tundra tires. Easing the stick back, I focused on the tailwheel instead. After a dance between altitude, airspeed and imagination, we touched down on all three wheels. But before I could even exhale—"Rudder, rudder, rudder!" exclaimed my instructor. "Stay alive on the rudder." Although we were earthbound, the landing was far from over. Small jabs—playful yet authoritative—on the rudder pedals kept our yellow beauty pointed in the same direction we were moving. Slowing down, small inputs became large ones, and we rolled to a stop on the bumpy grass.