Tuesday, March 12, 2013
10 Flying Techniques From Great Aviators
Some of America's best pilots offer advice on how to fly smarter
I'm sure Machado could expound at length on virtually any aspect of flying, but his tip for pilots is a simple one: Keep the windshield clean. That may seem simplistic, but it's a basic truth that's especially important in Southern California. Machado always insists on cleaning the windshield and side windows on any airplane he flies.
"Traffic is so heavy in this area that spotting other airplanes is more than a casual affair. It's essential to the safety of flight. You not only get rid of bug spots, you also reduce potential glare and improve light gathering. It's a simple benefit, but an important one."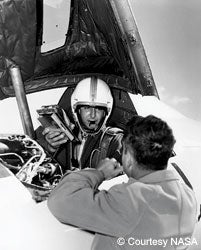 X-15 test pilot Scott Crossfield was the first to fly Mach 2.0, but he recommends not running a general aviation engine harder than 55% power for cruise.
3
Scott Crossfield—X-15 test pilot.
I met Scott Crossfield at the 1987 Sun 'n Fun Show in Lakeland, Fla. Crossfield needed an engine overhaul on his Cessna 210, and I was consulting with Victor Sloan of Victor Aviation. Crossfield stopped by the Victor Engines booth at Lakeland, we talked and he wound up buying a Victor Black Edition engine.
Modern pilots may know Crossfield by his participation in the 2003 Wright 100th Anniversary Commemoration, but Crossfield's credentials are much more substantial. At one time in 1955, Crossfield had more rocket-plane test time than any other man, he was the first to fly Mach 2.0 and may have been the first to survive reaching Mach 3.0. (Fellow test pilot Mel Apt was the first to actually exceed Mach 3.0, but he lost control and was killed while trying to recover.)
For a man who was famous for being the first to exceed 2,000 mph, Crossfield used to preach an unusual mantra. He believed that, "You make your own luck. When I was flying the rocket planes at Edwards AFB in the '50s, I was being paid to define the upper limits of performance. Since no one had ever been there, we needed to see what would happen at the top of the envelope, and that was my job.
"Today, I never run my engine hard because there's nothing to prove. There's just no reason to run a general aviation engine harder than about 55% power for cruise."
4
Bob Hoover—test/air show pilot.
It seems everyone knows Bob Hoover, the dean of air show flying in America. After a distinguished career as a test pilot in the USAF, Hoover began flying air shows for North American Rockwell in both his yellow P-51 Mustang and the Shrike Commander. I've flown with Hoover in both airplanes, and anyone who has witnessed his amazing performances at Lakeland, Oshkosh, Reno, or any other venue can attest to his stunning facility with a flying machine.
Hoover's experience and ability qualifies him to comment on virtually all aspects of aviation, but he confines his advice to one important subject. "I learned the hard way that spins are a bad idea in the P-51," Hoover explains. "In fact, I believe they're a bad idea in any airplane, and that's one reason I never did them in my air show act."
Page 2 of 5