Tuesday, May 22, 2012
20 Things You May Not Know About Night Flying
Darkness comprises roughly half of every day, but that's no reason to avoid flying at night, if…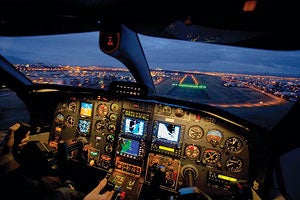 Some advantages to flying at night include airports that are easier to find with lighted runways, and instruments that are easier to scan with well-illuminated dials. One tip when in the pattern is to use square patterns with a relatively wide base. This will give you time to judge the final turn and landing approach.
I've since learned better, but there's no question night has its attractions—and its detractions. There's less traffic and more visibility, no glare from the sun, instrument scanning is easier with well-illuminated dials, cities stand out from surrounding terrain, and airports and traffic are easier to locate with their telltale beacons.
After way too many trips, I don't do too many Atlantic crossings—my West Coast domicile favors Pacific trips—but I still do my share of night flying, primarily because it's often difficult to get everything done in daylight. Why sleep when you could be flying?
Yes, I know. That attitude can get some pilots into trouble, and it does exactly that every year. Accident statistics suggest that flying by night accounts for about 10% of the general aviation accidents, but 30% of the fatalities. That suggests night flying must be inherently more dangerous than aviating when the sun is up.
The rules for night flying are more stringent in many countries than they are in the U.S., apparently in recognition of an increased level of risk. In Mexico, all night flights must be conducted IFR. Several African countries forbid ANY general aviation flights at night. (Airlines aren't so constrained.)
Of course, just as with flying over water, the airplane doesn't know it's dark, so the problems of night flying are more related to pilots than airplanes. Here's a short list of considerations for flying at night.
FLIGHT PLANNING AND PREFLIGHT
1
Smart aviators may plan a slightly different route at night, one that takes advantage of available airports en route.
There's no logical reason for more mechanical malfunctions at night, but any problem may be compounded by the difficulty of executing emergency checklists and spotting reasonable landing sites. Accordingly, many pilots will plot a course that zig-zags between airports rather than simply punching "Go To" on the Garmin and flying GPS-direct. The distance will be slightly greater, but not as much as you might imagine. For fans of pilotage, the old trick of picking a prominent point on the far horizon, flying to it, and picking another and then another, may be a challenge when you can't see a horizon.
2
Many pilots plan for a higher cruising altitude at night, simply because suitable emergency landing sites may be fewer and farther between.
The difference between cruise at 8,500 and 10,500 feet may not seem like much until you have to glide back to Earth at 800-900 fpm without power. That extra 2,000 feet represents an additional two-plus minutes of time to make important decisions.
Page 2 of 5