Tuesday, August 20, 2013
A New Beginning
As ma­jor airlines hire for the first time in a decade, pilot demand heats up
Aviation Career Update 2013
Careers in aviation are nothing if not dynamic. From the "golden era" of airline pilot jobs in the 1950s and 1960s, to the hiring doldrums of the 1980s and 2000s, the outlook for people who want to get paid to fly airplanes changes like a sunset. All along commercial aviation's timeline, the supply and demand for pilots graphs like a roller coaster. Today, as we charge forward through the second decade of the 21st century, aviation careers have taken on a still different character.
The biggest news today is the recent law affecting new First Officers on commercial air carriers. That FAA rule—which went into effect in August—sets some stringent requirements for new-hire airline pilots with regard to minimum hours and certification. We'll examine that rule later, but highlight it because of its impact on the pool of available pilots for regional carriers, the "minor leagues" in the airline pilot hierarchy.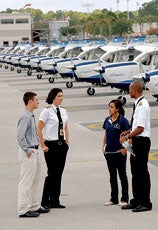 Recruiters are going to many of the largest training academies, recruiting students even before they complete their training.
The new rule, plus the massive growth of passenger traffic in recent decades, the lack of military pilots feeding the airlines, the "age 65" retirement law and the declining number of student pilots are causing many within our industry to forecast a pilot shortage. In fact, we've been talking about that shortage for the past few years, while a steady rise in hiring has been evident since a low point in 2009. By all indications, 2013 is showing signs of a nascent hiring boom, with some intriguing evidence appearing in recent months.
It should be noted that a vocal minority does proclaim that a pilot shortage is non-existent and will never materialize. They point to several indicators and economic rules that support their view. This group presents as evidence the now widely publicized low starting salaries of regional airline First Officers. They say there can be no new pilots as long as airlines have pilots on furlough. This group includes some respected members of the aviation industry.
All the arguing and controversy begs the question of whether or not a career as a professional pilot is still a viable and lucrative choice for those considering it. To help answer this objectively, we decided to go to the front lines of the professional pilot world; the nation's top flight training facilities. These include aviation universities, flight training academies, simulator facilities and specialized colleges.
A New Day
"ATP's Airline Career Pilot Program has grown to near-record enrollment, just below pre-recession enrollment numbers," said Paul Templeton, Director of Airline Relationships with Airline Transport Professionals (ATP). ATP is the nation's largest flight training academy with 31 training centers across the country. Templeton added that airlines had already hired about 300 students from ATP as of July of this year alone, with more expected. Such numbers haven't been seen since the 2006 hiring boom when flight schools across the country were losing instructors to regional carriers so fast they had to scramble to find replacements. It signals a new day for professional pilots.
Page 1 of 5