Tuesday, August 20, 2013
A New Beginning
As ma­jor airlines hire for the first time in a decade, pilot demand heats up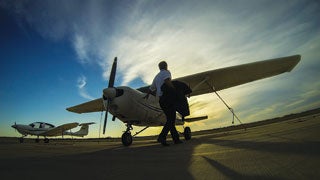 While many in the industry fear a growing pilot shortage, others insist that no shortage exists, and pilot ranks will be filled by those on furlough or currently in training.
"Airlines come to us because we do quality checks upfront," says Hank Coates of Aerosim. "You can't just pick somebody off the street and say, 'You can be a commercial pilot.'" ATP's Templeton adds that airlines looking for quality candidates see flight instruction as a big plus. "Second only to military pilot training, flight instructing is some of the best experience any pilot can gain," explains Templeton. "It provides a strong foundation on which to build in airline new-hire training. Plus, the airlines appreciate the pilot-in-command and aeronautical decision making skills that are part of daily life as a flight instructor."
Industry Worry
Industry analyst and airline career consultant Kit Darby explained that regional airlines have implemented aggressive strategies to recruit talent because of the impact a real shortage could have. "Major airlines recruit from regional carriers to fill their right seats being vacated by retirement rules, growing fleets, higher demand and a lower availability of well-qualified pilots," Darby said. "Once the regional cockpits have been emptied, those carriers will have few choices left, and if they can't feed the routes major airlines fly, then everybody will have a serious problem." At current training rates, we will fall short of Boeing's projection by about 2,000 pilots per month.
Even the military, which is traditionally over-supplied with pilot candidates, is experiencing a shortage for the first time in memory. The US Air Force (which has about 3,000 active fighter pilots) revealed this year that it's short 200 fighter pilots, and fears it may face a shortfall of some 700 fighter pilots by 2021. To head off the shortage, the Air Force is offering an unheard-of incentive package that offer a $25,000 signing bonus for each of nine years ($225,000 total) and salaries ranging from $35,000 to $97,000 under the Aviation Retention Program.

After screening, only a fraction of applicants go on to become first officers for the best airlines.

The shortage on the military side is being fueled by pilots jumping from the military to the airlines because of better pay in the private sector. Many are leaving because they don't want to be re-assigned to unmanned aircraft ("drones"), and because of the stress of constant deployments. It's another sign that pilots are already in demand.
Page 4 of 5