Tuesday, May 20, 2014
Advanced Training
Leaving your aviation comfort zone will open new doors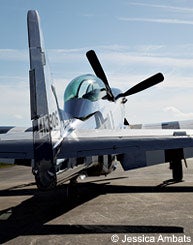 At Stallion 51 in Kissimmee, Fla., pilots can experience flying a dual-controlled P-51 Mustang. Other aircraft in the fleet include a T-6 Texan and an L-39 Albatros.
Warbirds
There aren't many pilots who don't fantasize about flying a genuine warbird. Nothing stirs the soul like one of those great radial-engined beasts from our country's past. We're lucky to live in a time where this is still possible and even affordable. Aside from the off-the-charts fun factor, flying a warbird gives us insight into what it was like for the many thousands of pilots who flew them during war. In aviation, warbirds are sort of the "gold standard."
Though warbirds are exceedingly rare (and expensive), a few schools offer orientation flights and actual checkouts in these aircraft. Another option is the Commemorative Air Force (CAF). Wings across the country operate warbird fighters, bombers and trainers. These can be flown by members (referred to as "Colonels") after lending elbow grease to the wing, helping to maintain the aircraft, attending meetings and functions, giving tours and paying a yearly "sponsor" fee to help keep the aircraft maintained.
If your interest in warbirds extends to more recent times, several locations offer instruction in vintage fighter jets and trainers. A little searching will reveal schools that train in everything from T-33s to L-39s and MiG-15s. Finally, if you want to experience what it's like to fly warbirds without mortgaging your house, look no further than the Collings Foundation (www.collingsfoundation.org). They offer reasonably priced rides in everything from their P-51 Mustang to their B-17 Flying Fortress, B-24 Liberator and many more aircraft as they tour across the country.

Precision in flying is the mark of a professional pilot.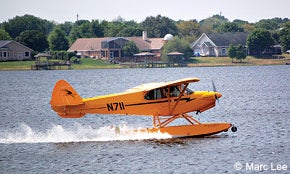 Jack Brown's Seaplane Base in Winter Haven, Fla., offers seaplane instruction in a fleet of J-3 Cubs. Students can earn their seaplane rating in just one weekend.
Seaplane Rating
Filed under "more fun than should be allowed," earning your seaplane (or floatplane) rating is one of the best biennial flight reviews of all time. Seaplanes don't feel any different in the air, but landing on water is something you have to experience yourself. The sublime sensation of water spraying everywhere combined with the beauty inherent in flying makes for a heady mix. You'll never be the same.
Earning the rating can be done in a weekend and takes some five hours of flying, so it's extremely affordable. You'll learn how to control and "taxi" the plane on the water, all about getting up on "the step," landing on glassy water (tougher than it looks), and a myriad of other skills and knowledge. Several schools across the country specialize only in seaplane ratings, and it's recommended you go to one of those. The advantage of a school like Jack Brown's in Florida is you can earn the rating while attending Sun 'n Fun. Many lifelong love affairs with seaplanes started with the seaplane rating.
Aerobatics
There's little debate that nothing will improve your confidence and stick-and-rudder skills like aerobatics will. Though the idea may incite immediate queasiness in some, the fact is that learning to fly an aircraft at the edge of its performance envelope is a massive skill builder and a heck of a lot of fun. Most pilots find that they don't get sick at all if they're the ones controlling the aircraft, and most say aerobatics are addicting.
Page 4 of 5