Tuesday, September 3, 2013
Airline Transport Professionals
ATP's nationwide centers offer top-notch ab initio training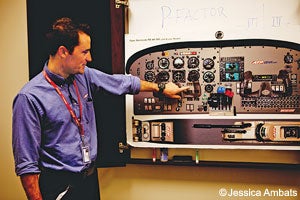 Demand for ATP's CFI graduates has been very high, not only with ATP but at other flight schools. They're among the few who have multi-engine instructor ratings and 100 hours of multi-engine experience.
ATP excels at training students to be professional pilots, but that's not the only option. Private pilots can come to ATP for their individual training needs, such as a 10-hour multi-engine rating program (four days) or an accelerated instrument rating program (15 days). As with other ATP courses, these programs are based on a fixed total cost so that students know exactly what to expect.
A dedicated finance team at ATP assists students in obtaining start-to-finish financing. Lenders are very accommodating to ATP students due to their track record of getting jobs.
One of ATP's newer and larger locations is at the expansive Phoenix-Mesa Gateway Airport. There, a 19,000-square-foot facility is home to multiple classrooms, dedicated FAA briefing rooms and a large training fleet that includes 30 Cessna 172s and Piper Seminoles, and a CRJ-200 flight training device. At this location alone, flight training is provided to more than 130 students seeking certification at all levels—from Private Pilot to Airline Transport Pilot. "The spacious accommodations at our Mesa Gateway location include personal study cubicles. Students can come and go as they wish and will always have a reserved spot for quiet study," said location manager Justin Ratliff. "Plus, Phoenix has excellent flying weather year-round!"
At Mesa Gateway and five other ATP locations, there's a full maintenance facility right on site. These six facilities take care of routine maintenance and scheduled inspections on the school's entire aircraft fleet. This ensures that a student's training is never interrupted, as there's always a replacement part or another airplane available when needed.
The future is bright, and ATP continues to expand. Five new locations will open this fall in McKinney, Houston, St. Louis, Portland and Seattle. ATP recently exercised options for 10 additional Archers as part of its purchase deal with Piper. This brings the total number ordered by ATP so far in 2013 to 25. The 10 most recently ordered Archers will be delivered in 2014.
For more information, visit
www.atpflightschool.com
.
Page 2 of 2