Tuesday, March 10, 2009
Cell Phone To The Rescue
In the air or on the ground, it could save your life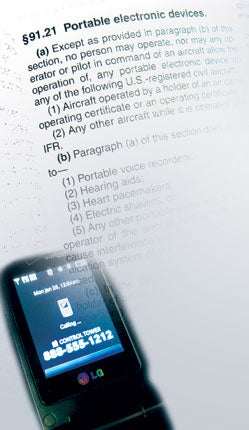 I was doing my first solo out to the practice area north of the airport. I was doing some ground reference maneuvers and noticed that the GPS and NAV lights were on. I thought that was strange, then noticed the annunciator flash, "low fuel." I knew the fuel tanks were full because I checked them during preflight. I immediately started looking for an emergency landing site. Suddenly, I noticed flames and smoke coming from the radio stack in the gap between the radios and ADF. The transponder was still on, so I tried to squawk 7600, but then the transponder failed too. I turned the avionics master switch off. I was going to land at a nontowered airport before I realized I had my cell phone in my bag…
That didn't happen to me, but it did happen to a U.S. student pilot in May 2007. Those words are from the report he filed with the Aviation Safety Reporting System (ASRS), and a cell phone helped him to resolve the situation safely.
Is It Legal?
General aviation pilots have used cell phones to talk to controllers, Flight Service Station (FSS) personnel and others during radio-impaired flights, including ones in instrument meteorological conditions. And think about this: If your aircraft radio ceases to function during a flight, then you can't key the mic to turn on runway lights if you wish to land at a nontowered airport after dark. If you intend to land at a towered airport, then you won't be able to tell them you're on the way. If you need assistance from ATC to find an area of clear weather or warmer air while you're flying in the clouds, then you won't get help when your radio fails unless you use another device, such as a cell phone.
In an uncomplicated world, FAA regulation 14
CFR
91.21 would permit the use of electronic devices and cell phones aboard GA aircraft, even during IFR operations, if the pilot in command determines that the devices won't interfere with aircraft NAV or COM systems. But a Federal Communications Commission (FCC) regulation, 47
CFR
22.925, prohibits the use of cell phones in airborne aircraft. The FCC has formally waived this rule for approved systems that don't interfere with ground-based networks, but this waiver doesn't include ordinary cell phones. An FAA advisory circular, AC 91-21.1B, discusses the use of portable electronic devices aboard aircraft; it notes that the FCC prohibits the use of cell phones while airborne and that the FAA supports this FCC restriction. The FCC rule applies to both private and commercial aircraft, and is intended to guard against the threat of interference to land-based cellular networks.
Page 1 of 3