Tuesday, September 18, 2012
Double Down
From Dream to reality: Moving Up from a single Engine to a twin story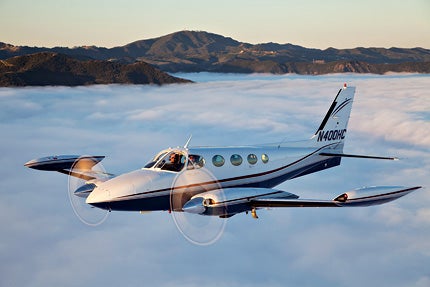 Ron Mohrhoff and formation pilot Patrick Carter fly Mohrhoff's Cessna 340 at sunset over foggy Malibu, Calif.
I loved my Bonanza so much I never thought I would sell it. The sexy ramp appeal, the performance, the quality and its friendly nature made me feel as if I would keep it forever. So many trips to great places with friends and family for years revealed its distinct personality. Airplanes like 47A are among the rare machines that are easy to fall in love with.
However, I dreamed about owning a twin ever since I learned to fly, looking up to the pilots who had them, often in the run-up next to me, as if they were the real deal while I flew my single on humbler journeys. I'm not at all ungrateful. I flew 47A throughout its service envelope on five-plus-hour flights, into the teens with oxygen, with the window removed in formation for photo shoots, and to hot and high destinations loaded to max gross weight. I enjoyed long trips, flights at night, flights over water and flights as direct as the GPS can direct you, even if it was many miles over inhospitable terrain. Yet more than once in the Bonanza, I was over the Tehachapis at night direct to SMO, looking very closely at the engine gauges. The roar of two engines surely called to me.
The Search
I first fell in love with the Cessna 340 when my dad and I stopped at Harris Ranch for a steak salad on our way home from the Bay Area one day. There was one parked on the ramp with its tip tanks, air-stair door and teeny little aisle. It was one of the most beautiful airplanes I had ever seen, but then quite out of reach. I spent hundreds of hours on Controller looking through the 340 ads fantasizing, but alas, I flew and loved the comparatively economical Bonanza for years.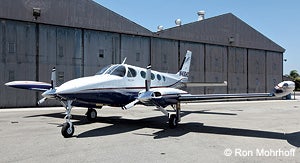 Mohrhoff's twin Cessna is based at Santa Monica Airport, where he earned his multi rating with Joe Justice of Justice Aviation.
The path from dream to reality heated up when two senior aviator pals in the field conspired to see me take it up a notch as they had once done. Jerry Moret was selling his Cessna 335 (the non-pressurized version of the 340). The price was kind of within reach, and he gave me the combo to the hangar so I could go sit in it whenever I wanted. That was it. My imagination took over from there. That deal ultimately fell through, but then my parents started drinking the Kool-Aid.
The truth is, strangely unbeknownst to me, my mother Karen and father Roger had always dreamed of flying themselves, but kids, careers and many years came and went, and the dream lay dormant until they became my first real passengers after I earned my pilot's license. They were enthusiastic aviators and quickly became frequent gas-sharing passengers in the Bonanza. They offered to partner on a nice 340, and Karen insisted on pressurization and new engines.
We looked at dozens of airplanes all over the country and even travelled at our own expense to see a few. There are a lot of surprises in the used-aircraft market, and we kissed many frogs before we found a prince. It took over a year for the search to fully develop into a buy, and we learned a lot along the way.
Page 1 of 4