Tuesday, September 18, 2012
Double Down
From Dream to reality: Moving Up from a single Engine to a twin story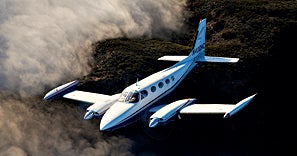 Jerry Temple represents many of the best 340s, such as this one, on the market.
Recurrent Training Center
The next morning, I was off to the Recurrent Training Center (www.rtcpilot.com) in Illinois with Phil Kennedy and his wife in his personal 310. He was headed to visit some friends and dropped me off on the way in a continuing effort to save me from the indignity of commercial air travel. RTC was a good choice. They were close to TAS so I didn't have to make a special trip later, and they had an actual 340 simulator configured very much like 0HC. I enrolled in the initial course: one day in the classroom and two-and-a-half days in the simulator. The facilities were modest, but so was the price. However, I got the training I went for, not fancy furnishings and new carpet. I was the only guy in my class and received training tailored to my needs. Having read the whole POH and the Simcom manual I inherited from the previous owner, my instructor, Dave Patrick, didn't waste time on material I already knew and instead focused on the things I needed.
Once in the simulator, Patrick put me through the paces. It took at least half of the first day to get comfortable with the sensitivity of the device, but once I could fly straight and level, out came the gloves. All flights were IFR, with Patrick on the computer just behind me throwing every possible failure at me at the worst possible times. Even though simulated, the experiences felt very real, along with anxiety and sweat. I dreaded what was coming at me next and was suspicious whenever two or three minutes of incident-free flight time passed. However, after each successful outcome, the reward was clear. I hadn't trained before in a simulator, but to safely experience catastrophic failures in IMC is really a wake-up call. Patrick initiated a split-flap scenario that I didn't identify that flipped the plane over and hurt my budding confidence, but I'll never take my hand off the flap switch again until they're deployed and the plane is still right-side up. I also left RTC knowing that this complicated plane must be respected, and I've chosen to fly it at all times like a professional. I always file IFR and follow a regiment of standard operation procedures and settings designed for every phase of flight. It really takes out the guesswork, decreases workload and increases safety. Every pilot I met at the facility was a professional getting their required annual training. I was the only owner-operator, but I'll be joining them next year.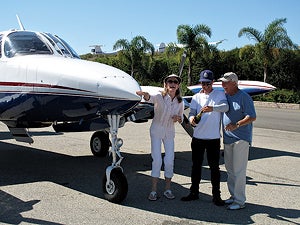 Ron Mohrhoff and his parents Karen and Roger celebrate the arrival of their newest family member.
In another expert TAS coordination effort, James Duval flew the 340 from TAS in Ohio to meet me in Illinois when I finished at RTC for the flight home and the balance of my checkride. It was less than two hours from the cockpit of the simulator to the cockpit of the real thing. Duval was by my side for the whole trip so I could collect 10 more hours of dual, but he let me show off my training and just watched. What the pros already know, which was becoming increasingly clear to me, is that you can really learn in a simulator. I climbed into 400HC and went through the checklist, just like I did in the simulator— with a familiarity and comfort level that surprised me. I was intimidated, but I did what I learned and quickly found that I knew exactly what to do at each step. We departed KCMI into actual weather, not something painted on the video screens, and it was sublime. I was PIC on my first super cross-country to the West Coast, and the 340 delivered the dream in a big way.
My parents greeted me at Santa Monica with a bottle of champagne to christen the new family member. A lot had been accomplished in two weeks, and we already had many trips planned. We've since skied fresh powder in Sun Valley, walked on the beaches of Mendocino in Northern California and visited relatives in Salt Lake City. And that was all in the first month.
Ron Mohrhoff is a 1,300-hour pilot with instrument and multi-engine ratings. He's a film producer living in Los Angeles and keeps his 340 at Santa Monica Airport. He flies often to stay current for flying missions all over the western United States. He's also a member and active pilot for Angel Flight West.
Page 3 of 4