Tuesday, September 24, 2013
Earn Your Multi-Engine Rating
ATP's 10-hour Course Trains You In A Piper Seminole In Just Four Days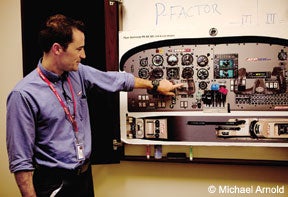 TATP graduate Pat Williams gives ground lessons and dual instruction in the Piper Seminole.
When not in class, students have the option of studying on their own at a personal cubicle in a library-type environment. They can keep their own schedule and will always have a reserved spot for quiet study.
A side door connects the main building to a pristine maintenance shop. There, a team of seven maintenance technicians work on routine fleet maintenance and scheduled inspections. "One of the great benefits of our location is the on-site maintenance facility," says manager Justin Ratliff. "It ensures that a student's training will never be interrupted because there's always a replacement part or another airplane available, if needed."
On a daily basis, Ratliff oversees 22 instructors and, on average, 30 accelerated program students. The location's fleet includes 30 Cessna 172s and Piper Seminoles and a CRJ-200 flight training device. There are also two Frasca TruFlites modeled after the PA44, and an Advanced Aviation Training Device (AATD) made by Precision Flight Controls that has single-engine and multi-engine interchangeability.
Before a flight, students can relax in plush seats facing huge glass windows that overlook the ramp. During summer months, it's a good place to get a last gulp of air-conditioning before stepping out into the Arizona swelter.
The airport itself is massive, which makes for a great training environment. Three parallel runways range from 9,300 to 10,400 feet in length. The school is in the northwest corner of the field, near the departure end of runway 12R. In the calm air of early mornings, runway 12 is normally active. When the winds pick up midday, the traffic flow is often switched to runway 30.
It's not unusual to see ongoing military activity. During one of my training flights, there was a C-130 Hercules making left traffic patterns for 12L while we were making right patterns for 12R. Down the ramp from ATP, Aviation Performance Solutions offers upset recovery and aerobatic training in a fleet of Extra 300s. Commercial airline service to Mesa Gateway is provided by Allegiant Air and Spirit Airlines.
From One To Two Engines
Over four days, Williams and I did around nine hours of ground school. We'd review my study materials and then he'd ask me questions. Some topics were more challenging than others, and when I botched the answers, I wished I had studied more before arriving at the school.
The more I learned about multi-engine flying, the more I started to appreciate my previous life as a single-engine pilot. Two engines meant a higher workload and more complex systems. We covered aerodynamic effects of an engine failure. The Seminole's right engine, a 180 hp Lycoming LO-360, has a counter-rotating propeller, so the airplane doesn't have a critical engine, but we studied the theory. "A large part of multi-engine training focuses on what to do if you have an engine failure," said Williams. "You need to be prepared to react immediately."
Page 3 of 4