Tuesday, September 24, 2013
Earn Your Multi-Engine Rating
ATP's 10-hour Course Trains You In A Piper Seminole In Just Four Days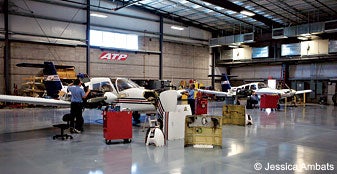 The on-site maintenance facility assures that students never have downtime during their training.
Like most other ATP instructors, Williams had previously been an ATP student. He had earned his private license back home in Southern California, and as a 120-hour student, he enrolled in ATP's fast-track Airline Career Pilot Program to complete all of his ratings. After graduating, he took an instructor job at ATP.
In total, we logged 8.1 hours in the Seminole. Seven practice approaches, 14 landings. As we climbed into the airplane before each flight, Williams would check us into ATP's Flight Ops system via an SMS text messaging system. The school's organized and disciplined approach to training definitely simplifies student logistics.
Our final training flight was over two hours. We went through every maneuver, and in some cases, multiple times. It felt a bit brutal, as I pointed out to Williams. "I want you to be overprepared," he said. "This will make your checkride seem like a breeze."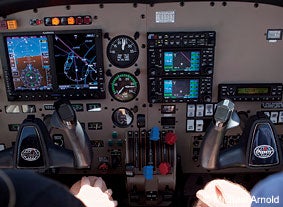 TA large focus of multi-engine training is on engine failure procedures.
I checked the forecast the night before my big day. Okay, I actually checked it about 30 times. The past afternoons had seen winds gusting up to 30 knots, and as a precaution, we had scheduled my checkride for 7 a.m.
ATP works with a set of DPEs. My examiner was Duncan Hastie, who owns Jet Safety International, a pilot training and aviation consulting business at Scottsdale Airport. We met in one of the designated checkride rooms. I was nervous, but Hastie put me at ease with his illustrious Scottish accent and array of flying stories. Among other career achievements, he had served as an advisor on the Harrier VSTOL aircraft to the British Royal Air Force and the U.S. Marine Corps.
As Williams had assured, the checkride—both oral and flight—was over before I knew it. After a single-engine ILS approach to runway 05 at nearby Casa Grande Municipal Airport, Hastie informed me that I was now a multi-engine rated pilot. Drenched in sweat, but multi-engine rated, nonetheless. It was an accomplishment I was proud of, and the rating represented a new "license to learn."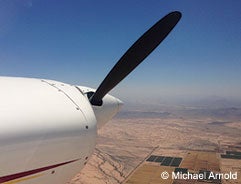 It turned out that my big day was also a big day for my instructor. I was to be his last student at ATP, after one year of his instructing there. The DPE's signature in my logbook—the last checkride Williams would send a student on—symbolized a milestone for Williams, as well. With 1,500 hours under his belt, including 1,300 dual given, he was ready for a pro career. He accepted a job with Shuttle America and moved to St. Louis for training classes. Just a few months have passed since then, and he's now based at New York City's LaGuardia airport flying reserve on Embraer E170s and E175s. He's a prime example of a successful ATP path, moving from private instructor to real-world job placement.
For more information on ATP Flight School, visit their website at
www.atpflightschool.com
.
Page 4 of 4