Tuesday, March 26, 2013
Expand Your Iceberg
Plane & Pilot takes on AFIT's 10-day instrument-rating program
I'm three days into a 10-day accelerated instrument-rating program, shivering against the biting cold while fumbling with the keys to a Cessna 172. It's 17 degrees outside as Cedar City Airport (CDC) in southwestern Utah settles in for a snowy night. With the gyros still whirring down, I catch sight of the red craggy peaks of Zion National Park in the distance, the sun casting long shadows across their faces. Six hours in the logbook today, and I feel like I'm drinking from a fire hose.
I was a stick-and-rudder pilot with very little knowledge of instrument flying. Steeped in flying wires, tube and fabric, I never thought I'd need or want an instrument rating. However, as I've progressed in aviation, I've learned the limitations of VFR-only flying, and want to become a better, safer pilot. As an aviation writer who frequents technologically advanced aircraft (TAA), I needed an instrument rating.
The instrument ticket is the big daddy of ratings—the toughest one by all accounts—and training once or twice a week at a traditional FBO would likely push me beyond the national average
of 70 to 80 hours to earn it because of what I'd forget between lessons. I could count on a year or so to finish, sacrificing every weekend and day off I had. The cost would be exorbitant. There had to be another way.
AFIT (Accelerated Flight & Instrument Training) is an outfit that offers a 10-day "full-immersion" instrument program. While there are other accelerated programs, AFIT guarantees theirs, and they've been around long enough to be a standard bearer in instrument training. AFIT trains 20 to 30 pilots per week, with 98% of them passing their checkride the first time. The idea of doing my rating at AFIT was intriguing.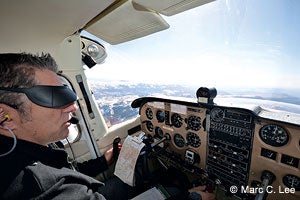 AFIT's instrument program is based on 40 hours in the airplane with no simulator time.
The basic tenet of AFIT's program is that training in spurts—as one would do at a traditional FBO—costs more money and takes more time than if the training is done all at once. In AFIT's program, the student builds on concepts and skills learned the previous day, and so progresses quickly without backsliding. Their compressed timeline saves the student money in the long run. The program is intense, but proven.
There's no simulator time, and all the training is done in the airplane. It's what makes AFIT different, and fits their philosophy that nothing in a simulator can beat 40 to 50 hours of actual flying—some of it in actual instrument conditions. AFIT's program cost is fixed, so once you're training, there are no worries about spending more money. I decided to take the plunge.
Day 3:
It's my second time shooting the LDA approach into St. George, Utah. This time, I have the needles pegged. My left "yoke hand" is sweating gallons, and I'm repeating the mantras I've learned from my Yoda-like instructor. "Tranquilo, tranquilo," ("peacefully" in Spanish) I whisper as the decision altitude gets closer. I've learned you don't make big changes this close to the runway. "Is your missed approach ready?" Yoda asks as I fumble with the radio call. Crap! I forgot the missed approach! I look down for a millisecond to change the frequency on NAV 2 and twist the OBS ring as fast as I can. I look back up at the localizer, but it's pegged right. No! I crank in opposite aileron to save it but it's no use. The approach is shot, and I'm lost. I killed us!
Page 1 of 5