Tuesday, April 21, 2009
From Cirrus To Citation
JetAviva puts its clients into the left seat of light jets
Video footage by Sean O'Leary
Through my Lightspeed Zulu headset, I hear a confident voice: "Denver Center, Citation One Three Zulu Mike, vacating flight level 390 for 240, smooth ride." Our descent into Aspen marks the conclusion of a 703 nm, tailwind-blessed trip from Santa Monica, Calif., and aside from a 2,000-foot marine layer cloaking the Los Angeles Basin, we haven't encountered any weather—until now. It's IMC with moderate chop, and through breaks in the clouds loom the snowy peaks of the rugged Colorado Rockies.
SStandard traffic pattern at KASE, which sits at an elevation of 7,820 feet on the southern end of a valley surrounded by 14,000-foot mountains, calls for aircraft to land on runway 15 and depart on 33.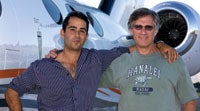 Marty Sprinzen (right) and one of his aviation mentors, Cyrus Sigari (left) of JetAviva.
But, today, winds are 310 at 18 knots, gusting to 28, so after requesting a circle-to-land approach on 33, tower clears our Citation Mustang for the circle. Swooping ski trails and majestic homes dot the white and green landscape below, but although I'm the passenger on this flight, it's hard not to notice the large mountain in front of us as we turn right base. "Pull up," commands the G1000 TAWS system. "Pull up!"
Single-pilot jet operations in mountainous terrain at a high-elevation airport flying a nonstandard traffic pattern in turbulence isn't for the faint of heart. Throw in a screaming terrain alert, and it's enough to rattle the staunchest nerve. But my left-seater keeps his composure and, on final, methodically states, "In a position to land, flaps to landing," and maintains 94 knots over the numbers, extra airspeed for the gusty conditions.
Page 1 of 4