Tuesday, April 21, 2009
From Cirrus To Citation
JetAviva puts its clients into the left seat of light jets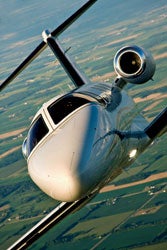 JetAviva provides all of the services necessary to determine which type of light jet is best for a particular client. The company teaches the pilot how to fly his or her new jet and place it into service. Specialized services include an 800-point ground inspection and test flight on the day of delivery as well as a jet-familiarization training program. The company also offers aircraft acquisition consulting and assistance with the sale of a previously owned aircraft. (When Sprinzen was signed off in the Mustang and was reluctantly ready to let go of his SR22, all he had to do was sign the final sales paperwork; JetAviva took care of the rest.)
We're sitting at the one restaurant that's open for Sunday lunch during pre–ski season in downtown Aspen, reminiscing about the morning's flight. Sprinzen is giddy with excitement and texts friends with the proud news of the challenging circle-to-land accomplishment. The guy at the next table overhears the buzz: "You own a jet?" Sprinzen's eyes brighten, and it's as though the little boy from Brooklyn is here: "I flew myself here in it!"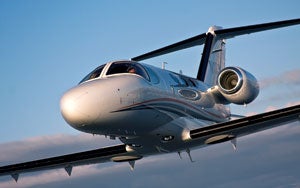 Sprinzen is a prime example of how JetAviva can make jet dreams come true; a vision that Sigari and Marcus are passionate about. The best friends immersed themselves in aviation at the age of 12, both studied aviation-related fields, and while working for Eclipse, came up with the idea to start JetAviva. "Ben and I are 26 years old," says Sigari. "By no stretch are we veterans in the business; however, we believe in three key tenets: have fun, take care of every customer as if they were the last, and be the best at what we do. One of the unique aspects of our business is that all of our clients are fantastically successful people, both in business and in their personal lives. We spend a lot of time with our clients, and as a result, we learn a lot from them. We take the golden nuggets that we've seen help our clients, and try to apply them to our business and personal lives as well."
Our flight home from the Colorado Rockies the following day is uneventful. Today, Sprinzen is a far cry from where he was a year ago, overwhelmed during the training process. "I'm a perfectionist, and when I get into something, I get into something," he says. "I like the challenge of knowing something like the G1000 system really well, and making it do what I want, such as fly across the country. There were times when I was ready to give up, but now I love my Mustang and I wouldn't want to trade it for anything.

"It doesn't take superhuman skill to fly a light jet," says Marcus. "But it does take a tremendous investment in time, money and emotion.

"The first time alone in the Mustang felt like my first solo flight all over again," the new jet pilot continues. "I was extremely focused for takeoff and climb, and then once established at cruise, I looked around the cockpit and cabin. I thought to myself, 'I'm alone in a jet at flight levels. Wow!'"
Learn more at
www.jetaviva.com
.
Page 3 of 4