Tuesday, March 8, 2011
Immerse Yourself!
If you're ready for intensive training, AFIT will get you an instrument rating in 10 days
No rating in aviation carries more mystique and prestige than the instrument rating. Sure, the ATP is a pinnacle of sorts, but for most pilots, the instrument rating is the big jump that separates professional pilots from their more casual brethren. Called "blind flying" in the 1920s, the ability to fly solely on instruments became a much-sought-after skill, as it is today. It's no secret that most newbie pilots look to instrument-rated pilots as being just below Chuck Yeager in their aviation stature.
The traditional way to earn the instrument rating is based on the time-honored FBO model: You go to a local FBO, and they tell you it will take about six months to earn if you fly once or twice a week. You meet your certified flight instructor, instrument (CFII), who more than likely, is young, building time and aiming for a first-officer job with a regional. You dig in, and nine months to a year of rescheduling, maintenance issues and different instructors later, you might earn your instrument rating.
There's another way that seems to be redefining the way pilots earn their instrument rating. With a 98% pass rate and gaggles of satisfied customers singing their praises, Accelerated Flight and Instrument Training (AFIT) is revolutionizing instrument training with an approach that's being proven time and again. So, what's their hook? Just give them 10 days.
Ten days to earn an instrument rating seems intense, and it is. But AFIT has the process down and accomplishes it over and over by employing some masterful tools: Each instructor is handpicked by Tony Montalte, president of AFIT, and must have at least 8,000 hours of time (most average 10,000) and 2,000-3,000 hours of instrument time. Each of his 46 CFIIs is at least 58 years old, with the maturity and finesse that come with those years. Instructors don't work for airlines or corporate flight departments— instrument training is all they do. And they come to you; the training can be done at your airport or at airports across the nation, in your airplane or one from AFIT's extensive rental network.
There's a beauty to AFIT's approach. By devoting an exclusive 10 days to training, clients put off distractions (like work). Instrument students have found that leaving their local environs and traveling to an airport served by AFIT gets them away from family obligations and forces them to concentrate on nothing but training. Also, AFIT assigns one instructor to the client for all 10 days. There's a rapport there that can't be underestimated. And ultimately, you fly like crazy.
Stories From The Front
It's a testament to the success of AFIT's program that pilots from countries all over the world have earned their U.S. instrument rating in 10 days, and sometimes less. We talked to a few of them, and thought it valuable to share their experiences.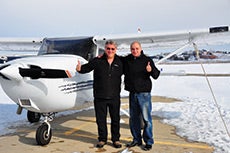 Eddy Rico
Eddy Rico lives on remote Reunion Island in the Indian Ocean, east of Madagascar. The 63-kilometer-long (39 miles) French island is home to Piton de la Fournaise, one of the most active volcanoes in the world, rising 8,600 feet above the sea. Involved in the tourist industry, Eddy Rico lives in this paradise of beauty. With 110 hours in his logbook as a private pilot, Rico decided to earn his instrument rating. "I wanted to become a better pilot and to extend my knowledge," he says in his charming accent.
Rico was impressed by AFIT's 10-day approach. Having previously lived in the U.S., he signed up to come to Boulder, Colo., (one of AFIT's core locations) to devote all his time to training. "The unique thing is that my instructor, John, took the time to work with me and understand my heavy French accent," explains Rico. "That gave me great confidence and put me at ease." Rico trained in a G1000-equipped Cessna, and passed his checkride after 10 intensive days.
Rico's advice to others is to find the balance between the time required to fully devote yourself to the training and what you want out of it. "It is a little bit more expensive to do it this way, but your time is expensive, too." Seven months after passing his instrument checkride, Eddy Rico earned his commercial certificate. Today, he flies passengers around Reunion Island. "More than anything, John made all the difference," adds Rico. "I believe that what really puts him on top is his ability to always find the right words to preserve the balance between confidence and humility. I may not be a perfect pilot, but I have confidence."
Page 1 of 3
Labels:
Aviation Careers
,
Aviation Resources
,
Careers
,
Features
,
Flight Schools
,
Flight Training
,
Jobs and Schools
,
Learning Center
,
People and Places
,
Pilot Resources
,
Pilot Skills
,
Aviation Personalities