Tuesday, March 8, 2011
Immerse Yourself!
If you're ready for intensive training, AFIT will get you an instrument rating in 10 days
Cirrus In Mexico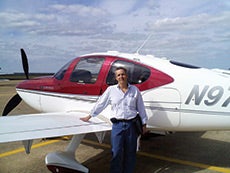 Alberto Bremer
Alberto Bremer lives in Mexico and works with Cirrus Aircraft's Mexico sales representative. He earned his Mexican private pilot certificate in 2006, and because he needed an American private pilot certificate to earn his instrument rating here, he acquired that in 2007. Bremer flew his Cirrus SR22 as a VFR pilot for about a year—often with a safety pilot—to become familiar with the airplane. After reading about AFIT and with 300 hours under his belt, Bremer decided that the total-immersion approach was exactly what he was looking for.
"The benefit was not that the training was fast, but that it was available," says Bremer. "I had gone to flight schools that said I could do the rating in six months or so, but I knew that would stretch into more time." Bremer also had to study for the written, and came to Texas because it was closest to his home.
Bremer finished his training in eight days in the Cirrus. "The Cirrus Perspective system is just beautiful for this," says Bremer. "You really don't exploit the capabilities of the Cirrus until you fly it IFR." Bremer attributes his success to his instructor. "Bill had me fly in every kind of weather you can imagine," he explains. "I had found instrument instructors at other places who didn't like to fly in actual IMC! Bill was fantastic."
German Connection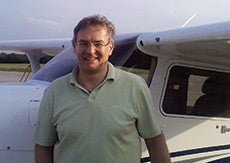 Robert McEwan
Robert Bailey McEwan is a VP for BMW in Germany. He also owns a Mooney Acclaim, and found that he needed a U.S. instrument rating to fly effectively in Europe. As with Bremer, a U.S. instrument rating meant McEwan had to re-earn his private. Though AFIT offered to come to Europe to train McEwan, German bureaucracy didn't allow the American CFI to train in a German flight school. McEwan came to Texas instead and utilized AFIT for both certificates. "In two weeks, I earned both the private and instrument," says McEwan, "with a 98% and a 96% on the exams."
Such a feat meant grueling training. "My instructor and I were together eight to 10 hours every day for 14 days," he laughs. "We flew four hours or more every day, and I couldn't even eat without him asking me questions and going through the material. It was excellent." McEwan didn't bring his Mooney but chose to train in a G1000 Cessna 172. To meet the requirements for both certificates, McEwan would study and fly all day, return to his hotel at 10 p.m., then study for several more hours.
"I looked very hard at different schools before deciding on AFIT," McEwan explains. "But for a busy person with a business and limited time, this was the perfect choice for me." McEwan uses his instrument rating all the time now throughout Europe. He advises that others do early preparation. "I used the King Schools course, and it was excellent. Make sure you do all the theory part first and be prepared."
Windy-City Training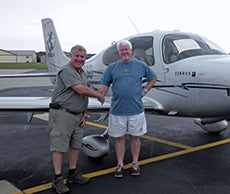 Scott Dillon
"I asked around and looked at many places to do my instrument training," says Scott Dillion, "but AFIT was qualified in my airplane and came to me. That convinced me." Dillion works in the travel industry and intended to do lots of flying for business. That meant getting grounded much of the time if he didn't have his instrument rating. Dillion spent a year flying in his SR22T getting used to the airplane, and when he felt ready, he turned to AFIT to start instrument training in his home base of Chicago.
"It was pretty intense," Dillion explains, "but John made it easy with solid lesson plans and total familiarity with my airplane." Dillion had taken a three-day "pass your instrument written" course earlier, but found he lacked depth of knowledge. This added to his burden while training. Dillion says he had to study six to eight hours a day, in addition to his eight hours a day of instrument training, to learn everything he needed. It ended up being a valuable exercise, since Dillion says his oral exam ran three and a half hours!
"I'd advise people to go in with a solid foundation of knowledge and to be sure you're exceptionally prepared," Dillion says. "And go in with lots of flexibility."
Page 2 of 3
Labels:
Aviation Careers
,
Aviation Resources
,
Careers
,
Features
,
Flight Schools
,
Flight Training
,
Jobs and Schools
,
Learning Center
,
People and Places
,
Pilot Resources
,
Pilot Skills
,
Aviation Personalities