Tuesday, March 8, 2011
Immerse Yourself!
If you're ready for intensive training, AFIT will get you an instrument rating in 10 days
42 Hours In Nine Days
With 235 hours as a private pilot, Mike Bundy had made a commitment to his family that he would train hard to become the safest and most capable pilot he could be. That path led Bundy to earn his instrument rating. "I just wanted to be better," he says.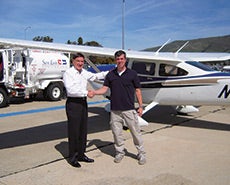 Mike Bundy
Bundy looked at many options, but was turned off at the "you can earn it in six months" approach of the local FBO and the heavy reliance of FTDs (flight training devices) at some of the other accelerated schools. AFIT appealed to Bundy's ideal that his training time be spent actually flying. Another draw was training in his own airplane. Bundy had purchased a Cessna 182 Turbo that was G1000 equipped. AFIT assigned Bundy an instructor named Hal who knew the 182 very well, and the two simply flew as much as possible. "We did 42.2 hours in nine days," laughs Bundy. "That was intense."
The training paid off, and Bundy earned his instrument rating. More important, Bundy has gained an obvious confidence and familiarity with the capabilities of his airplane. "Critics say you can't possibly retain information with a 10-day course," explains Bundy. "But I found it to be the opposite. The flows and procedures are ingrained in me. We flew our butts off."
Getting It Done
AFIT is on to something here. Proving their critics wrong, AFIT is graduating quality instrument-rated pilots across the world using a nontraditional approach. With a growing menu of offerings that include not only instrument ratings but other courses including private and commercial, AFIT is proving that you can become a safe, confident and proficient instrument pilot in just 10 days. And they guarantee it. If you're going to run with the big dogs, AFIT might be just the place to start. Give them a look at
www.afit-info.com
.
Page 3 of 3
Labels:
Aviation Careers
,
Aviation Resources
,
Careers
,
Features
,
Flight Schools
,
Flight Training
,
Jobs and Schools
,
Learning Center
,
People and Places
,
Pilot Resources
,
Pilot Skills
,
Aviation Personalities