Tuesday, March 8, 2011
Keeping It Real
Now in the fixed-wing market, FLYIT simulators are impressively realistic and take flight training to another level
I'm weaving my Bell Jet Ranger helicopter through the labyrinthine Hong Kong skyline. I'm low enough that I can see the Bank of China tower and the famous Samsung LED sign adorning the edge of the harbor, lit with a thousand jewels in the twilight. My instructor tells me I need to land this thing on a rooftop helipad that, to me, looks the size of one of the black dots on a pair of dice. I can't be distracted as I thread the needle of this approach. Hovering down near the top of my assigned building, I have a hard time slowing down. Suddenly my nose is too high and I overcorrect; way too much torque. I'm also flying backward! With my skids smashing into the building, I try to stop this heavy beast, but slam the tail rotor into the corner of the structure. It's a half-million-dollar mistake.
Bobby Smith, my copilot for this flight, starts laughing. My palms are sweaty, and my back is sticking to the black leather seat. The ringing telephone in the background shakes me back to reality: This was just a simulator ride, and I don't have to call my insurance company. "Let's do that again," chides Smith, "but let's go to Seattle."
You may not have heard of FLYIT Simulators (www.flyit.com), but you will. Ensconced in the corner of a nondescript commercial building near McClellan-Palomar Airport in California, a small team of highly skilled individuals create some of the most realistic and accurate professional simulators around. In the helicopter world, FLYIT really has no competitors—no one comes close—and they've recently launched into the GA aircraft world. So much is different about these simulators, that it's not really fair to compare them to other GA sim manufacturers.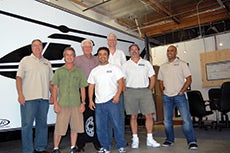 Headquartered near Palomar Airport in Southern California, FLYIT Simulators offers training in very realistic and accurate professional simulators.
The company was started in 1993 by Terry Simpkins who is an industrial designer by trade. Having created designs in various industries including the custom boating world, Simpkins is passionate about aviation. He has been flying GA since high school, and combined his love of flying and design into this innovative company. Today, FLYIT has helicopter simulators all over the world, with customers in law enforcement, emergency medical transportation, search and rescue and more. FLYIT also has created several custom fixed-wing simulators for customers with great success. They're now venturing into the general aviation arena, where they've made quite a debut.
The concept is classically simple: custom-built simulations built on top of world-class flight simulator software by Microsoft (and now owned by Lockheed). Simulations are run on a single PC (a high-end AMD Phenom quad-core processor with streaming video and graphics cards) and fed to ultra-high-resolution LCD instrument displays in full-sized cockpit mockups. A beautiful, wraparound "side-window" view of the sky and world around you is provided by two large, high-res LCD displays and a huge rear-projection front screen.
The entire assembly is purpose-built into a fuselage that's also custom-manufactured and made from strong-yet-light PVC board. A separate instructor's command center with a duplicate view of the cockpit as well as additional controls and screens, allows complete manipulation of all parameters of the flight. These components are then built into a custom 18-foot trailer, complete with heavy-duty insulation, commercial-grade carpeting and lighting, and RV-type air-conditioning and heating. The result is a turnkey, rolling simulation classroom that flight schools are discovering can be both a marketing tool and considerable revenue generator.
Page 1 of 3