Tuesday, December 1, 2009
Kings Of The Sky
Spend a day with John and Martha King and the hotly anticipated Cessna Skycatcher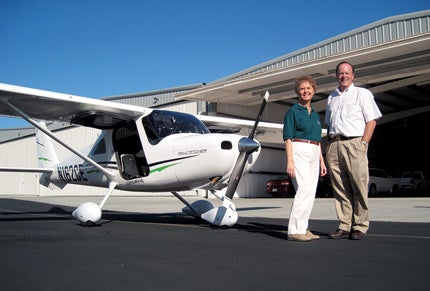 So what are they like in person?" is the first question my pilot friends ask when I tell them I've spent a day with John and Martha King, the well-known founders of King Schools. "Are they as nice as they appear?" It seems everybody in aviation knows the Kings, and they should: One out of every two pilots has taken one of the 90+ King courses, ranging from private pilot to jet training, and beyond.
I wasn't sure what to expect as
P&P
Editor Jessica Ambats and I made our way south to San Diego's Montgomery Field, where King Schools is based. I was doubly excited that I'd be meeting John and Martha King for the first time and spending the day with them as they produced Cessna's brand-new online course, flying the first production 162 Skycatcher. Also, I was curious about the improvements Cessna had made as a result of some well-publicized problems, and I wanted to find out what the Kings genuinely thought about the Skycatcher.
Both John and Martha agree that the Skycatcher is something special. "It's the biggest thing in GA in 60 years," says John. "I think it's going to revolutionize flight training." He points to the unique characteristics of the 162, commenting on its simplicity and crisp responsiveness. "I got used to it in five minutes!" he notes. Martha says the 162 is fingertip-easy to fly and is extremely docile. "It's the ideal trainer," she adds. Both Kings talk about things like ease of entry with the gull-wing door design, and the incredible visibility.
Accidental Success
King Schools' reach is international, with nearly three million courses sold in the last 35 years. "We're in the business of education," says John, "and our mission is to make flying clear, simple and fun." The Kings produce DVD and web-based training courses designed to teach everything pilots need to obtain a certain rating or certificate. The courses have an earnest, "folksy" quality, and have been so successful that many pilots consider the Kings their personal mentors.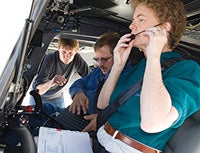 The two-seat trainer is transformed into a virtual production studio for the Skycatcher video shoot.
"We never intended to make this a business," notes John. "We were just looking for a serious way to make a living." After meeting at Indiana University, John and Martha married and started a truck lubrication business. The Arab oil embargo in 1973 led them to look for ways to supplement their dwindling income. Both were involved with flying by then, and they decided to teach at local ground schools on weekends. The demand for their ground school course soon became more than they could handle.
The Kings made a videotape of one of their ground school sessions so they could critique themselves. Because they couldn't be in two places at once, John and Martha used the videotape to teach the course in locations where they couldn't appear. That led to the founding of King Schools. "We're still looking for a serious business," laughs John.
The Kings & The Skycatcher
The reputation King courses have around the world is of high quality and fun delivery, and that fact was not lost on Cessna. It selected King Schools to produce a full-spectrum private and sport pilot ground school course, and provided the 162 Skycatcher as the trainer for it. The final product will be used at Cessna Pilot Centers. The day we visited, Martha was getting ready to film a new segment for the course. While she went through the extensive preparations for filming, we got a chance to look over the Skycatcher.
Page 1 of 3