Tuesday, January 28, 2014
Learn to Fly: A Practical Guide
Today, it's easier than ever to fulfill your dream of flying
Flight Training Options
There are three basic avenues to becoming a pilot: local flight schools, an aviation college or academy and the military. Local flight schools (also called "FBOs" or "fixed base operators") include freelance instructors. The military is steadily declining as a source of pilots for various reasons. Today, most pilots come from dedicated training academies, aviation colleges and local flight schools.
People who want to learn to fly but don't are stopped by a list of common hurdles. The FAA calls these "barriers to entry." As we enter 2014, a pilot shortage is looming, fueled by retiring pilots, an increase in air travel worldwide and salaries that haven't kept pace with the economy. For the first time in at least a decade, the major airlines are hiring new pilots, while regional airlines keep adding incentives to attract pilots. One of the ways the FAA is minimizing barriers to entry is the sport-pilot rule.
If being able to fly in 20 or 30 hours of instruction sounds more feasible for you than the 50 or 60 hours for the private, then the sport-pilot certificate may be for you. The FAA requires only 20 hours of flight instruction, along with relaxed medical requirements (all you need is a driver's license) and lessened knowledge requirements. In return, you can fly an aircraft that weighs 1,320 pounds or less, has no more than two seats, during the day only, at altitudes of 10,000 feet or less. If you just want to experience the joy and beauty of flight for less than $5,000, then the sport-pilot certificate is the greatest change in aviation since the headset.
A runway and a blue sky are the calling cards of adventure, and nothing beats an aircraft from which to experience it. If learning to fly has intrigued you, there's nothing that should stop you. Those of us who fly all share in a secret: We do it because nothing in life can imitate what it feels like to fly. All of us—any of us, would love to show you.
Sport Pilot: An Affordable Option
A Shining Future For Professional Pilots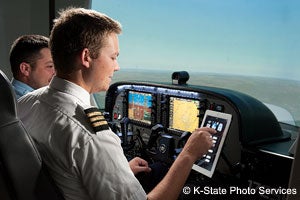 The news is everywhere that a pilot shortage is in full swing. Though many in the industry continued to claim that it would never happen, the fact is that the demand for pilots is reaching a level that's causing alarm in many sectors of the industry—especially the regional airlines. For anybody who has had the dream of flying professionally, both the present and the future look especially bright.

Several factors have created a shortfall in the number of pilots available to the airlines. In 2007, the mandatory retirement age for pilots was raised from 60 to 65. The first wave of those pilots have reached 65 and can no longer fly. They'll be followed by more waves each year. New flying time minimums for regional first officers took effect August 1, 2013, along with increased rest rules. Also, the military is training fewer pilots, and fewer civilians are opting for pilot training. The result is that a hiring boom is here.

Among the major airlines, American, Delta, JetBlue, United, Virgin America and others are hiring pilots for the first time in years. Southwest Airlines accepted 5,000 pilot applications during a two-week application period to prepare themselves for the new FAR 117 duty requirements. Some airlines, like Republic, are offering a $5,000 signing bonus and $500 referral fee to attract new pilots. Internationally, the demand is so high that airliners sit parked and unused due to a lack of pilots. Some airlines in China, for example, are offering salaries of $270,000 plus extensive benefits for pilots willing to live and work in Asia. Boeing predicts the need for 185,600 pilots between now and 2031, based on the number of jets ordered by Asian countries. Domestically, regional airlines have had to cancel flights because of a shortage of first officers. In the coming years, regional airlines will be the hardest hit by the shortage.

Meanwhile, both the United States Air Force and the Royal Canadian Air Force are offering unheard-of incentives to keep experienced military pilots from jumping to the airlines as demand there heats up. In all, the industry is forecasting a need for more than 500,000 pilots and 600,000 aviation maintenance technicians worldwide in the next 20 years.
Page 6 of 8