Wednesday, March 1, 2006
Learn To Fly: Happy Birthday, Kristin!
A young girl from Arkansas celebrates in a special way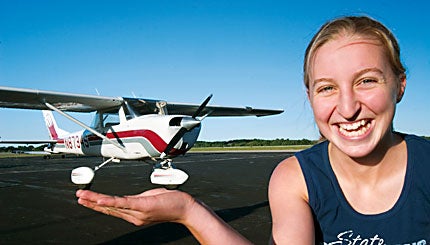 When Kristin Henry's dad bought a Cessna 152, he offered his young daughter the opportunity to learn to fly. Not only did she grab it, but she took flight training further than most people her age even imagine.
The sun wasn't up yet, but Kristin and her father were. She was already busy preflighting the family's Cessna 152 for a flight from their home in Sea Ridge, Ark., all the way across the state to Jonesboro, Ark. A dozen hours, two oral exams and two check rides later, Kristin would be back home with two new ratings in her hand—a private-pilot license and an instrument-pilot rating she earned that day. Not a bad present on your 17th birthday.
"It was a dream come true," says Kristin. "I had been flying for so long, and then all of sudden, I had my private and my instrument on the same day. It was awesome!" Kristin started taking flight lessons at the age of 14.
"We had to make several calls to different FAA examiners before we finally found someone who would give Kristin both check rides on the same day," remembers Greg Henry, Kristin's father. "Some people told us it couldn't be done, but we kept calling until we reached David Vaughn in Jonesboro."
"It was the first time that I had done something like that," says Vaughn. "I was amazed that she flew all the way down here, flew the private check ride, flew the instrument check ride and then flew home! It was fun for me. I've been doing this for 14 years, and I've never done a private and an instrument on the same day for the same person, especially for a 17-year-old girl on her birthday!"
But like anyone sitting in the left seat with an FAA examiner, Kristin was sweating bullets. "It was a cold day, and Mr. Vaughn kept turning up the heater. Of course, that only made me sweat more!" she remembers.
Little by little, she accomplished the items David Vaughn asked of her. "There was a lot of wind that day, so it made the instrument approaches really fun! And before the check ride, I was having a hard time with holding patterns, but I nailed them for Mr. Vaughn."
When Kristin began her flight training nearly three years earlier, none of her friends quite knew what to think. "My friends thought it was pretty cool, but when most of them think of flying, they think of Boeing 737s." When her father purchased a C-152 and offered to pay for her flight instruction, Kristin jumped at the chance.
"I remember the first time I did stalls. My dad had really psyched me up, but I was scared to death—scared to stall the airplane. But I got over it. I had an excellent instructor who always encouraged me. Once I finally got the hang of landings, I suddenly thought, 'Hey, this is something I can probably do!'" Now there's no stopping her.
"I've started working on my commercial-pilot rating, so I'm building hours," says Kristin. She also has begun advertising herself as a ferry pilot. So far, she has delivered two airplanes for customers, one to Boston and the other to Tampa, Fla. "I was scared that when I showed up to pick up an airplane to ferry, the owner would say, 'Oh my gosh, you're just a kid!' But that didn't happen, and both of the airplanes got there, so I guess they're happy about it." Her father accompanied her on both flights.
Page 1 of 2