Monday, March 1, 2004
Learn To Fly!
Flight Training Adventure Camps offers a unique and exciting opportunity for aspiring pilots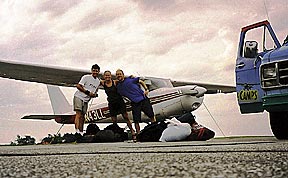 Learning how to fly means, among other things, mastering the controls of an airplane, understanding weather theory and unraveling the mysteries of aerodynamics—all of which can be studied at a local airport. That is an adventure in itself. But what if that process were taken one step further? Imagine, for instance, the Wild West as your flight school. The airplane, your teacher. Here, the vast expanse of the West plays an integral part in your flight training. It's a daring place where you sleep, breathe and eat aviation, 24 hours a day, seven days a week, where you can sleep underneath the wing of the plane you're learning to fly and where all around you is some of the world's most inspiring landscape. This is you learning to fly.