Tuesday, January 26, 2010
Learning To Fly 2.0: Cooler, Safer And More Fun Than Ever
Big changes in technology, manufacturing and design have changed the way we learn to fly
Flight-Training 101 (Photo By William Arcamuzi)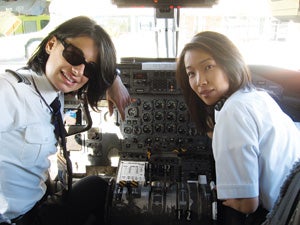 The decision to learn to fly is one of the most important choices you'll make in your life. Flying is a gateway to countless new adventures, friends and experiences; it's the beginning of a long road of learning. But just taking the first step can be overwhelming. Here are some guidelines to get you started.

BASIC STEPS
Begin your journey by finding a flight school. From your local airport's flight school to an aviation academy in another state, the options all depend on your future aspirations as a pilot.

You'll start flight training in sessions of about one hour in the air and 30 to 60 minutes on the ground. You'll need to study hard to pass the intensive FAA written exam. When the instructor feels you're ready, you'll solo (fly the airplane alone). Soloing is a big step, but just the first of many as your training continues toward the "checkride." That's when an FAA-designated pilot examiner will conduct a comprehensive oral interview and flight test. If you pass the oral interview, the flight test and the written exam, then you'll earn your private pilot certificate!

BASIC REQUIREMENTS
1) Be at least 17 to earn your private certificate.
2) Have the ability to read, speak and understand the English language.
3) Pass a basic medical examination administered by an FAA-designated aviation doctor.
The medical exam shouldn't be feared. Misconceptions abound about what can disqualify you from flying. In reality, few conditions will ground you. Wearing glasses, for example, is acceptable, and disabilities won't necessarily disqualify you. Indeed, there are thousands of pilots who fly with prosthetic limbs. Visit www.faa.gov/pilots/amelocator.

COST
Learning to fly isn't cheap: It's an investment in your education and your sense of accomplishment. You'll pay an hourly rate for both the plane and the instructor, and you'll need to buy training materials and gear. The good news is that the first certificate (private pilot) usually is the most expensive. Plan to spend between $8,000 and $11,000 for the private certificate, or between $4,000 and $6,000 for the sport pilot certificate. Variations in price will depend on several factors:

1) The plane you train in: An older, two-seat Cessna 152 will be less expensive than a newer, fuel-injected, four-seat Cessna 172. Navigation equipment also determines price.
2) Geographical location: Flight training in busy metropolitan areas is a bit more expensive than training in rural areas. You also can decide whether to train from an airport with or without a control tower.
3) How quickly you learn: Everybody learns in a different way and at a different pace. Age is a factor because we learn more slowly as we age. Flying is based on physical coordination, and individual abilities will determine how long it takes to develop these abilities.
4) How often you train: If you fly four times weekly, then you'll earn your certificate faster than if you fly once per week. Flying consistently can reduce your total number of hours and, therefore, the total cost of your training. Train as often as you can.

TIME
FAA regulations require a minimum of 40 hours of flight time to earn your private pilot certificate. This must include at least 20 hours of dual (with your instructor) and 10 hours of solo. These regulations were created when our airspace was less complex. Today, the national average runs around 60+ hours. If you train four times weekly, you can do it in about three months.
Page 4 of 7