Tuesday, January 26, 2010
Learning To Fly 2.0: Cooler, Safer And More Fun Than Ever
Big changes in technology, manufacturing and design have changed the way we learn to fly
Training Academies & Schools
To take advantage of all the changes in aviation training, it's best to begin by selecting the best training path to take. A huge variety of flight schools and academies are out there; each with its own approach and feel. We suggest you examine each option carefully to find the flight-training program that suits you and your needs.

Military Service: The traditional way of approaching an aviation career has been to become a military aviator. In recent decades, the military has been graduating a decreasing number of pilots. The decrease is significant enough that the military services are no longer an appreciable source of commercial pilots.

Training Academies: Training academies offer focused pilot training to commercial carrier standards. The goal of a training academy is to immerse you in aviation and get you trained quickly. Accelerated training comes at a price, with academies being more expensive than small flight schools, and the training more intense, usually requiring full-time immersion in the program.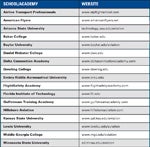 Degree Flying Programs: A growing number of colleges and universities across the country are offering accredited degree programs that include flight training through advanced ratings. Most offer two- and four-year degrees in conjunction with focused, airline-standard training. These programs range from relatively small and moderately priced to large, dedicated schools offering scores of aviation-related majors. In commercial aviation, a college degree will give you a considerable advantage in getting hired.

Please click on the images above to view them in a larger scale
Page 5 of 7