Tuesday, January 26, 2010
Learning To Fly 2.0: Cooler, Safer And More Fun Than Ever
Big changes in technology, manufacturing and design have changed the way we learn to fly
It's Never Too Late To Learn


At 84, Doris Alexander fulfills a lifelong dream
By Pamela Lee
If anybody embodies the adage that "it's never too late to learn," it's Doris Alexander. Born four years before the Great Depression hit, she has lived through World War II, the Space Race, the Kennedy assassination and much more. Though she had long dreamed of piloting an airplane, joking with her late husband that she could fly off of their home's unusual, horizontal, flat roof, she had never before taken the first step toward a pilot's license. Following her husband's death, however, Doris decided to pursue her never-forgotten wish to fly. As she put it, "My husband never let me fly; now, I'm doing all the things I want to do. It was on my bucket list." In June 2008, she began training for her private pilot certificate with American Flyers (www.americanflyers.net) at Santa Monica Airport.

Born in Stuttgart, Germany, Doris met her future husband, Milo "Sascha" Alexander, a Czechoslovakian, in a refugee camp during World War II. Following the war, in 1951, the married couple immigrated to the United States, settling in Southern California; soon after, they launched the Alexander Machinery Company in Culver City.

We first met up with Doris at Santa Monica's Typhoon Restaurant on the evening after she passed her oral exam. That night, she was in the mood to celebrate, and she was confident going into the flying portion of the checkride, which had been postponed due to weather. "Yes, I was nervous for the oral," she explained, "but I studied for it, and I had good training from Frank," referring to her flight instructor, Frank Yniguez. "I'm not nervous for my checkride."

Three days later, on December 13, after a lifetime of dreaming, and a year and a half of training and preparation ("I wanted to take my time," she explained), the 84-year-old became a licensed private pilot. The next day, we became her first passengers as we flew from Santa Monica Airport for a scenic trip over Los Angeles with our newly christened "pilot in command" and Frank. Doris authoritatively guided the Cessna 172 along the Pacific Ocean shoreline before turning inland toward Beverly Hills to fly steep turns over her house. She then took us above the Getty Center, near the Hollywood sign, past Griffith Observatory and over an empty Dodger Stadium before heading back for a perfect landing at SMO.

On the ground, Doris recounted her experiences: "My first solo, I wasn't nervous at all. I did three patterns, and it was the most amazing thing. On my first cross-country, to Santa Barbara, I was not so calm. I said to Frank, 'I don't want to do it on a Friday.' It's always so congested in the busy L.A. airspace on Fridays. But we did it on a Friday. At least it wasn't the 13th! There was some turbulence over the mountains, and near Point Mugu Naval Air Station, I was passed by a formation of military planes. But the landing in Santa Barbara was standard, and on the return leg, I was so happy to hear SMO tower again. I brought them donuts the next day."

Morgan Deering, American Flyers' chief pilot and school director, signed off on Doris' Achievement Performance Review (APR), the FAA's Part 141 school equivalent of a checkride. "She came prepared and confident for all the maneuvers," he recounted. "I just had to ask her once, and she knew how to do it—all APRs should be as enjoyable as that."

Next on her agenda: buying an airplane and flying to Palm Springs, not necessarily in that order. "I don't have much family anymore, but flying keeps me young and active. And I want to fly to see my friends while they're still here. That's why I'm going to Palm Springs, to visit a dear old friend."

Other aviators who are over the age of 80 and are interested in pursuing flight can get in touch with the United Flying Octogenarians (UFO). Since 1982, the group has had a membership of more than 600 pilots who joined at the age of 80 or older. To learn more, visit www.unitedflyingoctogenarians.org.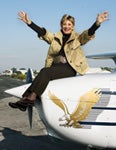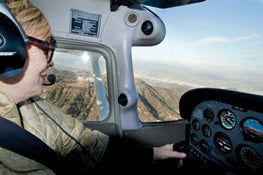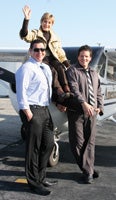 Doris Alexander celebrates her first flight as a certificated private pilot with her instructor, Frank Yniguez (left), and Morgan Deering (right), who signed off on her APR.
Page 7 of 7