Tuesday, July 20, 2010
Lessons Learned Part 1
Alaska vs. The Outside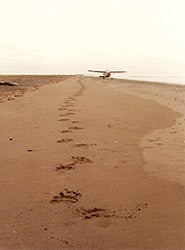 Returning to her plane after a walk at Cape Constantine, Patty encountered bear tracks
•
Know thy wind.
Always know which direction the wind is coming from. If you have a forced landing, landing into the wind as opposed to downwind can and will make the difference whether you'll survive it. Do the math. No windsock? No AWOS? You still have lots of cues to look for. Any body of water will tell you the wind direction by the thin ribbon of clear water on the upwind side. Any smokestacks, chimneys? Wherever you fly has its unique weather patterns.
•
Preflight!
Don't take shortcuts. Keep your airplane clean of frost and ice, but also bugs, grease and dirt. I enjoy washing and waxing my airplane. It gives me a chance to inspect every screw and rivet, the brake lining and attach point. If I don't have time to preflight at an air-show, my crew chief uses a two-page checklist to preflight my airplane. To preflight is NONNEGOTIABLE.
•
Be prepared.
Would you survive a night out in the cold if you had to make a forced landing, or a water ditching in sheepskin-lined boots? Do you have basic tools? How about a Swiss Army knife? What if you land on a lake, and the skis or wheels freeze to the ice?! Okay, everyone I know will tell you I fly in Tevas and shorts most of the time, but when I fly in Alaska in the winter or summer, I'm prepared to hike out.
•
Be smart.
Always leave yourself an out! Don't be afraid to turn around. Look for light spots in the horizon and turn to them if you end up in bad weather with low visibility. Can you turn around in the pass you're about to fly through? Look for danger signs. There are road maps out there. If an area is known to be dangerous, there's a good reason for it. There's an often-used pass in Alaska that's littered with shiny wreckage of airplanes. Flying through it is a grim reminder of what will happen if you don't turn around before you get to the narrowest part. We're not always reminded quite so graphically, but local knowledge and legend will clue you in.
•
Use your airplane.
It's a personal tool. I just drove a motor home from Florida to California, and while it was an adventure, I found myself wanting to pull back on the steering wheel and fly. It's also a business tool. In Alaska, flying is a necessity, where it's accepted and respected. If only the rest of the country understood how important it is!
Now that I've flown for 30 years, I'm even more of a believer in the Law of Primacy. You know—one of the laws of education that says a student retains information they learn for the first time. The law also says that unlearning bad habits is always more difficult than learning the correct ones in the beginning.
Instructors, are you teaching your students good, basic airmanship skills that will keep them and their passengers safe throughout their careers? And students, get the best instruction you can find. If you're not happy with what you're learning and if your instructor isn't teaching you the basics, find someone else.
I had a good start in Alaska, and while I found myself frustrated early on with the lack of aerobatic training available, I realize now that my earliest flying experiences were a great foundation for aerobatics which, after all, is just good airmanship taken a step further.
Alaska is Alaska; everywhere else is "Outside" or, if one of the other United States, then the "Lower 48." In Dillingham, I had no idea how pilots did it "Outside." After five years, my next challenge was to find out how they did it in the Lower 48.
Read Lessons Learned: Part II here.
Patty Wagstaff is a six-time member of the U.S. Aerobatic team and a three-time U.S. National Aerobatic champion. She flies for the California Department of Forestry during the summer months.
Page 3 of 3
Labels:
Aviation Careers
,
Bush Flying
,
Cross-Country Travel
,
Getting Your License
,
Journeys
,
Learn To Fly
,
Learning Center
,
Navigation
,
People and Places
,
Pilot Skills
,
Weather Flying
,
Winter Weather
,
Aerobatics
,
Travel
,
Backcountry Flying
,
Pilot Talk
,
Adventure Flying