Tuesday, October 8, 2013
Live Interaction: A New Way To Learn
Pro Aviation Trainers combines Internet learning with live instructors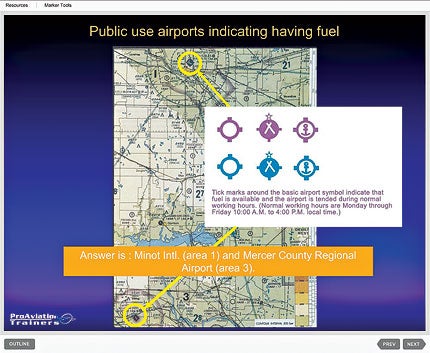 Just when you thought everything had been done in the world of ground school/knowledge exam preparation, along comes somebody with a twist on tradition. For decades now, the accepted method of preparing for taking an FAA knowledge exam (popularly known as a "written test") has been to take either the King Schools or Sporty's Video courses, or do an accelerated weekend cram course. Video courses have evolved from 1990s VHS quality, with an instructor standing in front of a chroma-key green screen, to today's slicker Internet-based courses with HD resolution and 3D graphics. But overall, the choices haven't changed much. Some people opt to study without the courses, using various text and online resources to supplement their self-guided learning. But the days of traditional "ground school" sessions—led by a live instructor—seem to have buckled under the stress of our over-scheduled lives.
Pro Aviation Trainers has created a new approach to passing the knowledge exam by combining the best of live ground school sessions with the advantages of web-based courses featuring rich graphics and animation. In business since only June, the company has introduced another method for aviation students to pass their knowledge tests.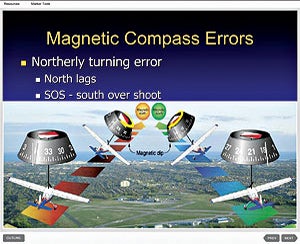 Modern graphics and pre-reviewed content is combined with a live instructor to create a new ground school model.
Pro Aviation Trainers' system is a hybrid of the popular video course format, with the interaction of a live instructor. Students enroll in a course given on a specific date and receive detailed training materials ahead of time. Then they use their Internet web browsers to launch the course on that date and time. Instead of pre-recorded content, students hear a live instructor and see graphical content for that lesson. Browser controls allow the user to "raise their hand" (it's a virtual gesture, nobody sees each other) and ask live questions. Students can chat, make comments and interact with the instructor in real time. Like other digital formats, students can access the courses from wherever it's convenient and can follow along even in their pajamas.
The system is the idea of Al Naqui, an engineer and MBA who invested in a traditional FBO and saw a need for a different kind of ground school training. "I noticed that not every student learned the same way," said Naqui. "Having a live instructor, they could ask questions that seemed to improve their learning."
As of late summer, some 50-60 students had taken Pro Aviation Trainers' course. So far, only the Private and Instrument Pilot courses are available, though Naqui already has plans to expand. "We are in the process of adding the Commercial and CFI courses," he told us. Students can select from a 10-week format or an "accelerated" two-day option for either the Private or Instrument course. Naqui says they require a minimum of five students to conduct a seminar, though he has run seminars with less. He caps the courses at 25 students, and an average of 10-15 attend.
Page 1 of 2